With more time spent indoors as our homes remain multipurpose spaces for school, work, relaxation, and play, decor and design trends have shifted to reflect our new needs. While doubling down on hyper-specific trends is not always the best idea, we can learn from new directions in design to help inspire us and transform our homes for the better. We've read the trend reports and the design dossiers, and we've rounded up some of the top trends for 2022. So what does this year have in store?
Sustainability and Natural Indoor Styling
Sustainability is here to stay, with many companies and designers shifting to sustainable, energy-efficient materials and eco-friendly production processes. The desire for consumers to know how products are made and what kind of materials are used is on the rise, and it's exciting to see how companies are responding. This means that there are so many sustainable options at our fingertips now.
We are spending more time indoors, which means that we've begun to invite nature in. Sustainable trends have inspired popularity in using natural surfaces like wood, terracotta, travertine, terrazzo,
marble, stoneware, and cork. And these natural surfaces are being used everywhere around the home, from kitchen counters, unique decorative pieces, office furniture, bathroom fittings, backsplashes and headboards. So invite these raw and imperfect natural elements into your home to add calm, depth, texture and visual intrigue.
Be Brave and Go Bold
How we decorate our homes has shifted in response to the stress and hardship of the COVID-19 pandemic. Trends are set to welcome more cheerful aesthetics that influence our mental state for the better. Part of achieving a positive outlook is surrounding yourself with things and colours that make you happy. Trend experts explain that we have moved towards the design and decor changes of the 1970s. In light of this, we've shifted our spaces towards entertaining and creating safe spaces for friends and family to gather rather than going out.
All the major trend reports for 2022 show that bold colours and patterns are set to dominate. Shades of green and blue will be the colours of choice, noting that many are trying to bring the outdoors in. Emerald, sage, and avocado green will define indoor decor trends and patterns for the year harken back to a bright and cheerful 60's and 70's feel. This might include bolder, playful, and more glamorous furniture pieces like cocktail cabinets, round-edged couches, and wavy wooden coffee tables.
Neutrals are here to stay too
If all that bold and bright makes you anxious, don't worry, neutrals are still set to command great popularity in 2022. Our beloved neutral tones and textures will never go out of fashion, but we may see them crop up in different ways, like nature-themed prints and unique textured fabrics this year. With a desire to spend more time at home, we are all longing for the healing and calming effects of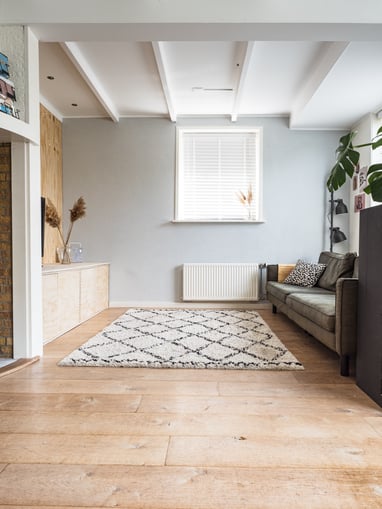 the natural world, so change it up and add some exciting new iterations of the classic neutral palette.
Stone, various wood, cork flooring, rattan, coloured concrete add visual interest and texture to a space. Play around with these calming neutral hues by selecting pieces with exciting patterns and unique textures. Then, enhance this natural look with grounding metallic accents to create a luxurious homey feel.
Biophilic Design and mindful spaces
The layout of homes has moved away from boxed-in plans to embrace Biophilic design. Bio-what-now? Biophilic design principles emphasize natural lighting, good ventilation, calming aesthetics, including plant life indoors, indoor-outdoor living, and creating a visual connection to the natural world.
In prioritizing good ventilation, this year's renovation trends include expanding spaces to create open-flow living areas that connect the inside to the outside so that you can safely entertain family and friends. But these enhancements don't have to sacrifice style as there are plenty of intentionally-designed outdoor furniture options to meet your needs while looking great too.
As we settle into hybrid work, trends reflect a deeper awareness of how our homes impact our wellbeing, so regain your connection with the outdoors by incorporating these principles and inviting some serenity into your life in 2022.
Multifunctional Spaces
As much as open plan living is great, there are times when some much-needed privacy and concentration is required. Room trends reflect this by focussing on work from home spaces, homework dens, and hobby or craft rooms.
The changes in children's lives drive design as they spend more time away from school. In some situations, families have opted out of full classroom settings altogether and instead have chosen home-schooling or online school. The tech-savvy have even incorporated smart boards, wi-fi, and plenty of places to plug in all your devices with wall-mounted USB ports.
This shift may not be true for everyone, but homework is a reality of life that will simply never go away - much to our kid's disappointment. Room trends have embraced this by emphasizing multifunctional office spaces that serve as homework rooms. These can be repurposed as kids grow and later serve as study rooms for varsity students or even a new home office.
In general, many have realized that they can live with less and have gotten creative with using space effectively. Downsizing may be a reality for many, but there are plenty of clever ways to reshuffle your rooms and create some fabulous multipurpose spaces. Free up some space with our multipurpose furniture ideas.
Comfort and Tradition is key
Trend reports showed that comfort and tradition would be important in 2022 as we create havens for ourselves away from the world's madness. This has shown itself in the rise in popularity of Hygge and Lagom. Hygge is a Danish concept that emphasizes finding comfort, calm and cosiness in your living environment. Lagom is a Swedish and Norwegian term that translates to 'moderate' and
puts forward the philosophy of using less to create more in your home. Functional spaces, decluttering, and saving murphy beds are great examples of Lagom. An example of comfort dominating design is that structured seating has fallen out of fashion to be replaced by more plush options like curved couches and chairs.
With so much changing, it is no surprise that people seek nostalgia and tradition. Traditional style and decor detail are making a swift return as people attempt to awaken comfort, nostalgia, and timelessness. We will see detailed vintage pieces like wingback chairs, roll arm couches, and simple dining arrangements here. Materials we will see include marble, natural woods, mohair, and pure linens. Here you are looking for pieces with detail and history as this year becomes more about connecting with our roots. Expect to see pattern mixing and a whole lot of vintage shopping too.
Interested in Hygge? Check out our article on how Hygge can invite more happiness into your home.