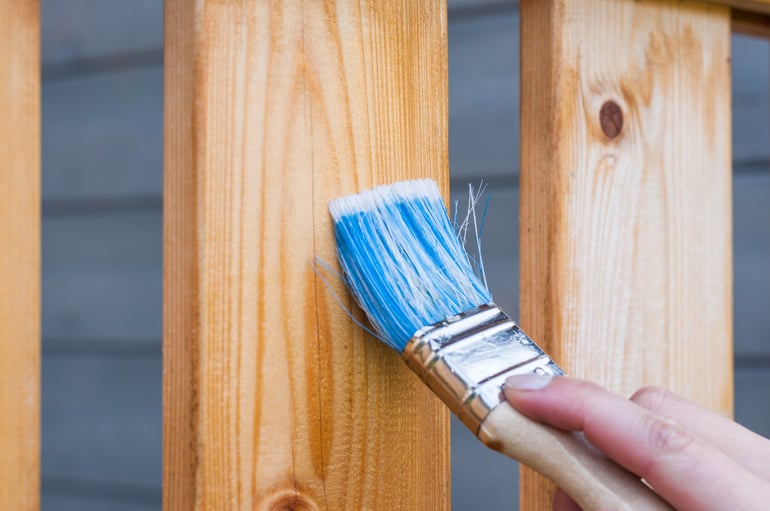 Home improvements are a great way to add value to your property, but not all of us have bottomless pockets for a full-on renovation. Lucky for us, there are plenty of affordable DIYs that can spruce things up.
Take a look at some of our favourite DIY home improvement ideas.
Kitchen facelifts
Kitchens are renowned for their impact on the value of a home, and clever updates in this area can give a lot of bang for your buck. DIYers concentrate on external surfaces like countertops and cabinet doors, which are easy to refurbish without professional help.
Cabinet doors
Modern buyers definitely prefer light and bright kitchens and repainting old, dark cabinets a lighter or more modern colour can really open up a space.
Solid wood cupboard doors can be sanded down using a palm sander before painting, while melamine cabinets need to be primed with a special primer before they'll be ready to paint. Remember to remove the doors from the cabinets and take off all the handles and hinges before sanding and painting. Use a foam roller with a water-based enamel paint for the smoothest and long-lasting finish.
Countertops
Great countertops make a big difference to both a kitchen's appearance and the cooking experience. Granite, Caesarstone and marble counters are always crowd favourites, but they do cost a fair bit and need to be installed by professionals. Timber and Formica are much more approachable – and affordable – for the DIY family, and can be just as attractive if they're chosen and installed well.
When selecting a Formica finish, rather avoid dated options like faux granite or marble.
Modern wood grains and minimalist textures give the best results. A square edge profile rather than the traditional quarter-round also adds a more contemporary flavour.
For the more adventurous DIYer, there are also options like casting your own concrete countertops. Just keep in mind the general style of your home, and make sure your countertop choice enhances its surroundings.
Your garage
Garages may not seem like the most important part of a home, but homeowners can add a lot of value to their property by turning them into more functional spaces.
Garages are often underutilised. They're ideal spaces for adding extra storage – something that is very important to a lot of buyers – and can often accommodate a mini workbench or laundry area with a little planning.
While adding a laundry corner to your garage would require a plumber, storage is an easy weekend DIY for the handyperson in your home.
You can buy ready-made cupboards and shelves from your local hardware store, but budget-conscious DIYers can also try second-hand websites to find old kitchen cabinets to mount along their garage walls.
For those with less available space, hanging storage may be a better option. Try pegboard walls with hooks for holding everything from bicycles to lawnmowers and secateurs.
Update outdoors
Garden spaces are still very popular with buyers, but a bigger emphasis is being put on ease of maintenance.
Water-hungry lawns and labour intensive plant beds are falling out of favour, but outdoor entertainment areas are in high demand. Homeowners with a flair for DIY could do well to combine these two trends by adding paved or gravel sections to their garden, and possibly a pergola or a built-in-braai.
While paving may be hard work, it is DIY friendly, as is the basic brickwork required for a simple braai. Construction plans for braais and timber pergolas can be found online, and all supplies are available at your local hardware store.
Remember, low maintenance doesn't mean bare of all greenery and life – try to at least keep a border of plants or creepers, and definitely preserve any mature trees.
Restyle your bathroom
Bathrooms may be tricky to totally revamp as a DIYer, but Jacobs says even small updates can make a big difference here. Try a fresh coat of paint on your walls and ceilings and replace old-school towel rails and accessories with more modern versions. You can also refinish your bathroom cabinets, or replace your vanity entirely. Adding a few stylish mirrors or display shelves can be a great idea as well.
Retiling makes a huge difference, but it's a pretty big DIY. If you're not up for a project of that scale, you could consider refinishing your existing tiles using the specially formulated tile paints that are now available.
If you do decide to paint your tiles, just remember to follow the instructions very closely. For the best finish, avoid areas like shower enclosures that get wet on a regular basis.