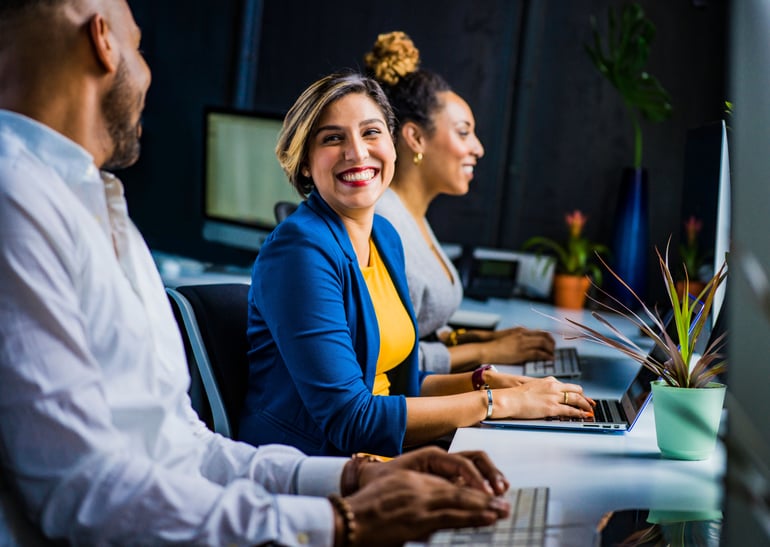 No-one can deny that 2020 has - in many ways - been a tough year. However, for the Rawson Property Group, it has also been a year of very positive footprint growth. The Group has so far welcomed 13 new franchises to its team and has also had over 500 agents join the brand since March this year, leading many to ask what the secret is behind the Group's ongoing expansion.
"2020 has been a year for saving costs, upping efficiency and productivity, and making the most of every opportunity to earn." says Tony Clarke, MD of the Rawson Property Group. "Our Rawson Engage tech ecosystem supports each of these pursuits, and gives agents more time to focus on serving clients excellently - in any circumstances."
He believes this, together with free lifelong training, extensive lead generation by the Franchisor, and the significant brand equity and cost-savings associated with being part of a nation-wide brand, is playing a big part in so many people making the decision to partner with the Rawson Property Group.
A collaborative culture
"We've spent years building and refining our Rawson tools and technology and honing our onboarding process to enable franchisees to hit the ground running as soon as they join our brand family," says Tony Clarke, MD of the Rawson Property Group. "It's been incredibly rewarding to see the amazing progress our new franchises have made this year, despite the difficult conditions. It goes to show how much can be achieved when franchisors and franchisees work together in a genuinely collaborative culture."
Marelize Coetzee, who opened her new Rawson Middelberg franchise in May, couldn't agree more.
"The leadership and support from the franchisor team is simply amazing, and so conducive to the growth and success of my team," she says. "Culture is definitely a main ingredient in this brand's secret recipe. I'd describe it as being part of a massive business family: close enough that everyone always has your back, and big enough to catapult your business into a new league."
According to co-franchisees of Rawson Knysna (opened in July), Julian Lincow and Mariska Liebenberg, Rawson's supportive culture also extends to fellow franchisees.
"Another welcome surprise was the warm reception from our neighbouring franchisees," says Liebenberg. "Their absolute willingness to help, guide and support us really made us feel at home from the start."
Easy Onboarding
Mallory and Noleen Fisher, Co-franchisees of the brand new Rawson Mitchell's Plain, have been equally impressed with the ease and efficiency of Rawson's onboarding process.
"We received our branding and marketing stock even before we opened our doors in October," says Noleen Fisher. "The IT department was also super-efficient at handling our set-up and systems-onboarding, and we jumped straight into the comprehensive proficiency training course with the amazing training team. Overall, the support was phenomenal and we are so grateful for this opportunity."
When launching or re-launching a business, branding and marketing is a key part of kick starting operations.
"I'm obsessed with the marketing team! They are really accessible and they add so much value!" says Taryn Murphy, another Franchisee joining the brand in 2020. "Their insights are invaluable when it comes to the different channels available, and I've had some great, helpful sessions with them - especially with creating awareness around our launch and establishing a fresh presence in our areas. Very positive on this front!"
Taryn, who comes with a wealth of experience in the conveyancing and real estate industries, converted her Greenstone-based real estate business to the Rawson brand earlier this year, and then proceeded to purchase the brand's Green Point office in Cape Town.
Extensive technology
Taryn minces no words when explaining why Rawson was the brand she chose to partner with. "Rawson's tech suite is basically why we bought the Franchise and the whole tech ecosystem is really great!," she says. "It takes some getting used to, but we have had great training and are quickly becoming pro's."
New Rawson Middelburg Franchisee, Marelize Coetzee, is equally impressed. "I have worked for various well-known real estate brands, both in South Africa and abroad. None of them could compete with Rawson when it comes to technology and systems. It really makes my agents so much more efficient and effective, and makes my life as the franchisee so much easier when it comes to management and reporting." Since joining the brand in May, this team has grown from strength to strength, logging 47 sales to date.
According to Tony Clarke, comprehensive training is an absolute necessity to enable new franchisees and agents to tap into the power of the Rawson Property Group's extensive and award-winning technology. There may be a learning curve, but the results speak for themselves: new franchisees have invariably reported excellent adoption by their agents, and outstanding performance as a result.
Free, ongoing training and support
"I'm not going to say things were not overwhelming in the beginning, but overwhelming soon made way for excitement," says Cinette du Toit, who converted her existing Robertson agency to Rawson Robertson & Cape Agulhas in August 2020. "We were very new to the advanced tech ecosystem offered by Rawson, but my team got the hang of things and started seeing results from the get-go. All of a sudden, we're getting the calls, we're getting the leads! The feedback from our clients has been overwhelmingly positive."
Training doesn't stop after the onboarding process is complete, either. Clarke says ongoing support is all part and parcel of the Rawson way of doing business.
"The ongoing refresher training and user support has played a massive role in getting us and our team to operate efficiently and effectively, even while restricted operationally due to Covid-19 health and safety requirements," says Julian Lincow of Rawson Knysna.
Built for the "new normal"
With franchises scattered across the length and breadth of South Africa, attending implementation and training sessions in person can be challenging, even more so with recent contact- and travel restrictions. However, the Rawson Group's ability to support franchisees digitally has proven very effective, and particularly valuable during the pandemic.
"As a coastal town, quite removed from the traditionally metro-based training venues, we are very grateful for the level of live, online webinar training offered by Rawson," says Rawson Knysna's Mariska Liebenberg. "In this respect, the 'new normal' is really wonderful!"
When it comes to adapting to the new normal, Rawson's technology goes far beyond training, however. In fact, many franchisees have reported record-breaking sales since the end of Level 4 Lockdown.
"This year has really highlighted how important adaptability is in a business," says Clarke. "Thankfully, at Rawson, we had tools and systems in place to enable our franchises to not just stay operational, but thrive in almost any circumstances."
Conversion opportunities! Want to know if your real estate business qualifies?
If you or anybody you know would like to find out more about Rawson Franchise opportunities and whether your real estate business qualifies for their no-cost conversion offering, contact their Business Growth team on franchise@rawsonproperties.com.
Keen to become a Rawson Agent? Click here for the contact details of your nearest Rawson Franchise, or here to send your details to our Recruitment team.