Stellenbosch is not only home to some of South Africa's most elite businesspeople, it's also headquarters to some of its most prestigious companies. The area's sweeping vineyards, rugged mountains and thriving agricultural sector may not make it the most obvious place for a commercial hub, but Louis van Rooyen, Commercial Broker for Rawson Commercial Somerset West, says this is an important part of its appeal.
"Work-life balance has become a key focus for a lot of businesses, but it's becoming more and more difficult to achieve in major city centres," he says. "Between the 'concrete jungle', insane traffic congestion and general hustle of city life, there's not much time or space left for employees to regroup and re-energise."
For this reason, van Rooyen says developments like Stellenbosch's Technopark have become highly sought-after by forward-thinking enterprises.
Capitalising on Stellenbosch's spectacular environment and proximity to Cape Town and the airport, the 55-hectare commercial estate combines top quality office space with a number of lifestyle conveniences. From gyms and restaurants to doctors, dentists and physiotherapists, tenants have access to all the services they could need, within walking distance, all inside the estate's secure and park-like grounds.
As for accessibility, Technopark's recently enlarged roadways have ensured free-flowing traffic – a far cry from Cape Town's congested highways. Staff have an easy commute from a wide array of popular towns within a 20km radius, making the Park a highly desirable place to work.
"Commercial real estate of this calibre is hard to come by anywhere, but even more so in Stellenbosch," says van Rooyen, "which is why we're very excited to have a prime rental available in Technopark."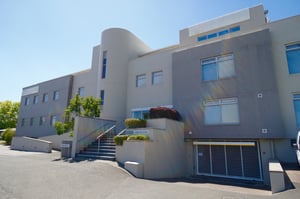 This prime rental is available from 01 May 2020 and is currently tenanted by Capitec van Rooyen says. Capitec will then be moving to their newly built Head Office located in the North-West edge of Technopark in May.
The rental space offers 2890m2 of air conditioned and fresh-air-fed floor space includes an optimal mix of open plan and private spaces, as well as bathrooms, basement storage and balconies with panoramic views. It's also backed by full capacity standby generators to negate the risk of load shedding, making it the ideal space for continuity-conscious businesses who can't afford to waste a minute of the workday.
"It's a great space inside an incredible, secure and convenient complex that hosts some of our country's leading tech-focussed and tech-enabled enterprises," says van Rooyen.
Tenants can expect to rub shoulders with the likes of Capitec, Sanlam, Remgro, Discovery and Distell, amongst others.
"It's a great place for networking, and a prestigious, well-known address," van Rooyen concludes. "We're expecting a lot of interest from businesses looking for A-grade commercial space that supports their business goals and fosters the kind of work-life balance that an effective, modern workforce needs."