You've probably heard of Meat Free Mondays and maybe even tried it out with your family, but did you know that Paul McCartney launched the Meat Free Mondays global campaign in 2009 with the aim of raising awareness about the environmental impact of meat consumption? In an effort to reduce greenhouse gas emissions, the Meat Free Monday campaign encourages people to have at least one meat-free meal per week.
Changing to plant-based even one day a week can have an immediate positive effect on climate change. Get this; it's even more effective than trading your car in for a bicycle! Here are just some of the benefits of making this simple change:
Reduce your water and energy use
Halve your greenhouse emissions
Save wildlife and species extinction
Protect our oceans
Reduce your overall environmental footprint
Cut down on pollution
Whether you'd like to give it a go or are already in the swing of things, we've rounded up some great plant-based recipes for some environmentally friendly meal inspiration!
Avocado, tomato and lime Linguine
This guacamole inspired pasta is a zingy, low-calorie linguine that delivers on flavour and couldn't be simpler to make. The best part is that it can be served as a cold pasta salad or popped into a lunch box for the next day.
Ingredients
1 lime, juiced and half zest
1 avocado, cubed
100 g of Linguine pasta
2 ripe tomatoes, chopped
1 onion, finely diced
A handful of fresh chopped coriander
Chilli (optional)
Method
Check the cooking instructions for the pasta on the packaging. Place the pasta on and move on to prepping the toppings. Add the chopped tomatoes, diced avocado, coriander and chopped onion to a large bowl and mix it all together. Drain the pasta and toss through the avocado mix. Finish off with some lime juice and zest to serve. Serve warm or cold.
Curried Butternut Soup with Crispy Halloumi
A hearty and healthy soup is the perfect weekday meal when you're pressed for time because they are so simple to make. If you're really in a bind, you could take advantage of the pre-made soups at your local grocery store for a healthy meal in minutes.
Ingredients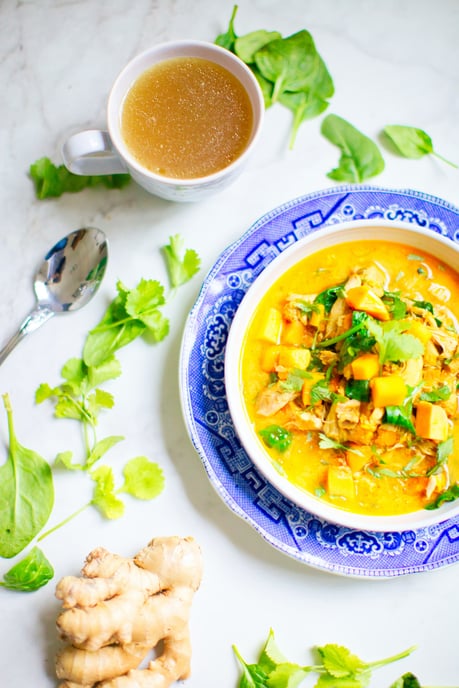 1kg butternut soup (you can also pick up store-bought)
500ml cream
1 tsp curry powder
1 block of halloumi cheese, sliced into 1cm pieces
cornstarch (optional)
1 teaspoon olive oil
a handful of toasted pumpkin seeds
Your favourite bread or bread or pita for dipping
Method
Heat your store-bought soup according to package directions or bang a tray of cubed butternut in the oven at 220 degrees celsius for 50 min or until cooked through. Blend your cooked butternut with the cream and curry powder until smooth and creamy.
Pat your cheese slices dry with a kitchen towel. You can dip the halloumi in a bowl of cornstarch to lightly dust - this creates a super crispy crust but is entirely optional. Add the olive oil to the pan. On medium to high heat, fry the halloumi on both sides until golden and crispy. This should take about 1 to 2 minutes per side. Serve the soup topped with the crispy halloumi and pumpkin seeds sprinkled on top. Eat with your favourite bread or pita.
One-pan brunch with egg and seasonal vegetables
Packed with fresh vegetables, this egg lover's meal is a filling and healthy breakfast for the whole family. If you eat your eggs soft, the kids can enjoy dipping toast with their eggs too.
Ingredients
5 eggs
300g baby potatoes, halved
1 spring onion, sliced
200g mushrooms
1 garlic clove, grated
1 sprig thyme, leaves picked
1 tbsp olive oil
1 tbsp butter
1 baby marrow, cut into small chunks
2 mixed red and yellow bell peppers cut into small cubes
Method
Wash and halve the baby potatoes. Boil them for 8-10 minutes or until soft and then drain. Place a pan on medium heat and add the butter and oil. Add the drained potatoes, mushrooms, peppers, baby marrows and season to taste. Fry for around 10 minutes until everything is beginning to turn golden brown. Add the thyme, garlic and spring onion and cook for 2 min.
Create spaces in the fry-up mixture to place the eggs into. Crack the eggs into these spaces and cover with a lid to cook for a further 4 minutes. You can continue cooking if you prefer your eggs medium to hard. Sprinkle with some more thyme and serve.
Baked Feta Pasta
This pasta is all the rage on social media and TikTok. Delightfully easy and chock full of bold flavours, it's bound to become a family favourite.
Ingredients
300g feta, drained
5 cups pasta,
4 cloves grated garlic
4 tbsp Olive Oil
500g Cherry tomatoes
1 tsp dried Italian herbs or a handful of chopped fresh herbs
Half a tin of tomato puree
Handful grated hard cheese like Grana Padano, Parmesan or Pecorino
Fresh basil
Method
Preheat your oven to 200 degrees celsius. Add your feta blocks in the centre of a deep dish baking sheet or pan. Place a drizzle of olive oil, herbs and chopped garlic on top of the feta. Add the tomatoes around the dressed feta. Coat the tomatoes with the remaining olive oil—season to taste.
Bake for 25 to 30 minutes or until the feta is soft. While this is baking, you can cook the pasta according to the instructions on the packaging. Drain the pasta and set it aside.
Take the baked feta and tomato out of the oven and mash the feta with a fork. Add the cooked pasta, tomato puree, and mix until the pasta is thoroughly coated. Drizzle with olive oil and add some fresh basil and grated cheese to serve.
Crispy Cauliflower Tacos
These tacos are packed with flavour and texture and are a really fun twist on the Mexican classic.
Ingredients
For the crispy cauliflower: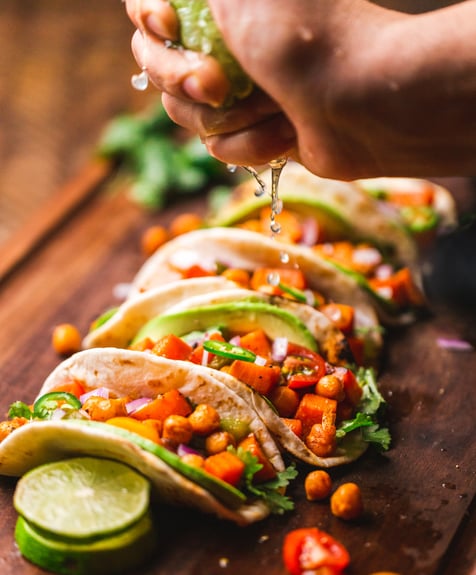 1 head of cauliflower
2 tsp paprika
2 tsp garlic powder
1 tsp cayenne pepper (optional addition to add a spicy kick)
180g panko bread crumbs
1 cup BBQ sauce
180g all-purpose flour
180 ml milk (you can use plant-based milk too)
50ml water
For the tacos:
2 handfuls lettuce, chopped
1 handful red cabbage, sliced
green onions, sliced
a handful of fresh coriander, chopped
1 avocado, cut into slices
1 lime, juiced
6 corn or flour tortillas
Spicy sriracha sauce (optional)
For the creamy garlic sauce:
1 cup plain yoghurt
1 clove of garlic, grated
Salt and pepper to taste
Method
Preheat the oven to 180 degrees celsius. Combine the flour, milk, water, paprika, and garlic powder in a large bowl to make the batter—season to taste. Place your panko bread crumbs in a bowl for coating.
Cut the cauliflower florets into bite-sized pieces, removing the stem. Dip the cauliflower into the batter, making sure to cover completely. Transfer them one by one into the panko bread crumbs. If you're looking for a gluten-free option, you can omit this step or use alternative flour.
Lay the dunked cauliflower florets on a baking sheet with enough space around each one so that they can crisp up. Bake for 30 minutes. Take them out of the oven and coat them with your favourite BBQ sauce. You can add some sriracha sauce at this point, too and up the spice level. Bake for 25 min until golden brown.
The creamy garlic sauce couldn't be any easier, just combining the yoghurt and grated garlic et voilà. Serve with soft or hard shell tacos and fresh cabbage, coriander, green onions and avocado slices. Assemble your crispy tacos, drizzle on some lime juice, the creamy garlic sauce and your favourite chilli sauce and dig in!
Check out Support Meat Free Mondays for more meal plans and to join the South African campaign! And if you're looking for more ways to become an eco-warrior, check out our top tips for homeowners here.