Spring has sprung! The winter weather is warming, and it's time to start prepping for some outdoor fun. We're ready to spend some time outdoors with the family, so we take you through some essential outdoor Spring cleaning tips and some bonus projects to get your home ready for some springtime fun.
Ready the Braai
We're heading into braaing season, and it's best to be prepared. Of course, braai maintenance and cleaning should be done throughout the season, but it's great to have everything sparkly clean as we hit warmer weather. Before you fire up the braai, take off the braai cover if you have one, and wipe it down to remove any dust. You can then remove the grill and clean it with a halved potato or lemon to make sure any large residue is removed. Spray the grill with a grill cleaner, which can be picked up from your local supermarket or hardware store. Let the spray soak in for five to ten minutes to remove any ash and grease. Wipe down the grill with a hardy sponge.
If you happen to have a gas braai left unused for a few months, it's best to give it a once over. Check that the burners are not clogged with any ash or food residue from cooking. Make sure all the connections are securely fixed to prevent any gas leakage. You can also remove the grill to clean it. For some extra shine, wipe down the exterior with some glass cleaner and paper towels. Now you're all set for your next family braai.
Clean your windows
The dreaded window clean! This is quite a tiring job, but it has a massive impact on your home's look. You'll need to do this inside and out for the best results. Regular store-bought glass cleaner works well, but you can easily make your glass cleaner with:
250ml water,
250ml rubbing alcohol,
a dash of vinegar or lemon juice.
Mix it together, and you're good to go. Apply store-bought or homemade detergent on some chamois cloths, squeegees, or a regular soft cloth. This can be a big job, so involve the whole family for some Spring cleaning fun. You can finish the windows with some old newspapers to dry them and to achieve some extra Spring sparkle.
Clean your outdoor furniture
Outdoor furniture spends its time exposed to the elements, and dust can accumulate very quickly. A little cleaning can go a long way to get you ready for Spring outside with the family. Here are some tips for cleaning different types of outdoor furniture:
Cleaning plastic furniture
Some simple homemade cleaning hacks help clean even the dirtiest plastic furniture. To restore the bright white of your furniture, wipe it down with a homemade solution of; 100ml bleach, 1.5 litres of water, and some mild kitchen detergent. This will get your chairs and tables sparkling clean. Undiluted white vinegar can be used for stubborn stains. Baking powder also does wonders if applied in a circular motion making sure to apply quite a bit of pressure. Rinse your cloths often while cleaning and wash your hands after applying detergent. When you're done, rinse down your furniture with water and let air dry.
Cleaning wooden furniture
Hardwood and wicker furniture can take the biggest beating from the weather but this furniture is built to last. Mix some mild wood soap with warm water to wipe down all the furniture. This is an oil based soap used to clean wood and can be picked up from the supermarket or hardware store. If you find that you are battling against stubborn dirt, then use a soft scrubbing brush. Be careful of the wood grain and make sure the brush you use doesn't scratch the wood.
Cleaning metal furniture
Whether you have aluminium, cast iron, or wrought iron furniture, you will see some rust or oxidation signs. Not to worry, this is fixed with a simple solution of equal parts vinegar and water. You can mix:
100ml white vinegar
100ml water
Use a cloth to wipe down any spots with your vinegar solution and make sure to rinse your furniture off after you are done.
Easy wins to upgrade your outdoor space
Add some raised garden beds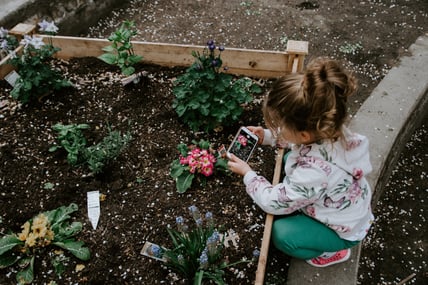 Perfect for renters, planter boxes are a fast way to achieve a tidy looking contained garden without the mess and effort of tending to regular garden beds. The best thing about it is that you can take your green babies with you when you move. This type of gardening is also perfect if you live in a smaller space or an apartment.
You can buy these raised garden boxes from the nursery or hardware store. They come in varying sizes and heights to fit your space. Raised bed gardening will mean you are planting on the floor but in a boxed container. But you can also get raised planter boxes on legs that are perfect for balconies.
Prepare the soil with a mix of slow-release fertilizer and some compost. Pick some veggies or herbs, and you're on your way to the perfect container garden ready for the Spring sun. Why not plant some coriander, rocket, basil, or cherry tomatoes to add to your weekly cooking.
Check out our beginner's guide to gardening for some top tips on how to grow herbs.
Freshen up your outdoor furniture
You've put in all that effort into cleaning your outdoor furniture; why not give it a fresh coat of paint or some Danish oil to freshen up the finish? Once your wooden furniture is all dry, consider a finishing or danish oil for the wood. Your hardware store will be able to advise on the best treatment for the type of wood you have. This will keep it looking fresh and give it an extra layer of protection from wild weather.
Consider updating the color or painting sun-beaten, metal furniture with its first coat of paint. Plan to start your painting project on a warm, dry day. First up, remove any paint flakes. Lay your furniture on some plastic sheeting for easy cleanup. You need a smooth surface for painting, so scrape any flaking paint chips off and give the furniture an all-round sand to smooth any rough edges. Give it a proper wipe to remove any paint dust and set in the sun to dry.
You will need to choose a specialized metal paint or spray paint at the hardware store in your favourite colour. If you're painting aluminium furniture, you'll also need a tin of aluminium primer to go on first. Make sure to read any specific instructions for your particular paint, noting whether you should or shouldn't stir the paint. Now let the painting party begin, and you'll have freshened up furniture in no time.