They say that the kitchen is the heartbeat of any home, and we agree. However, we also know that not all homes come with the type of kitchens we see on Grand Designs, Extreme Makeover: Home Edition or in any of the Kardashians' homes (we can dream, though).
Luckily, you don't need to live in envy of these homes and their larger-than-life kitchens – all you need to do is make a few simple tweaks and changes that will help make your kitchen look and feel bigger! Here are seven cost effective hacks to start with:
Add glass details
We understand that realistically and financially it's not always an option to give your kitchen a major makeover. But a small update on the cabinet doors can have a great impact on your kitchen. Solid doors – especially if they're dark in colour – can make that your space feel much smaller than it really is.
Instead, replace the solid doors with glass-fronted ones. This small tweak will create the illusion of depth, which in turn will make your kitchen look and feel bigger; plus it will help lighten the entire room. Keep in mind that you will have to take extra care to ensure that the shelves behind the doors are well organised and structured – nothing makes a space feel more crowded than shelves that are cluttered and messy!
Go for floating shelving
While glass-fronted cabinets can make a major impact, those with small kitchens will be glad to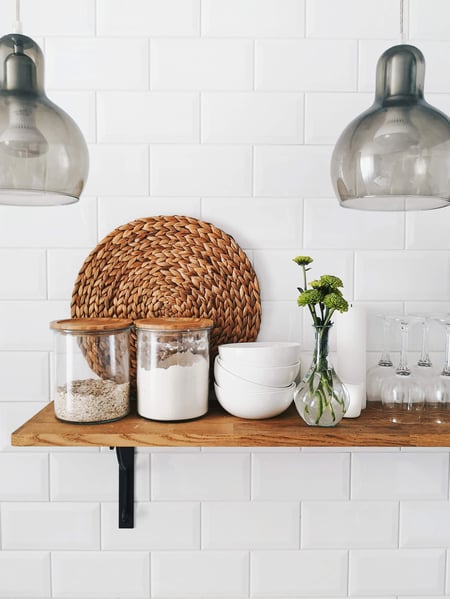 know that this is not their only option… Open shelves – especially if they are floating shelves – can also help open a space and create the illusion of depth and, so, make the room feel bigger. Again, this means that the shelves need to be neat, tidy and organised at all times, as they are open for all to see. And a cluttered, messy shelf can make a space feel crowded and smaller.
Keep it organised
Speaking of clutter, avoid crowding your countertops and windowsills with appliances, recipe books, pots and pans, and mail. Rather pack these items in cupboards (if you're limited on shelving space in your kitchen, pack the items that you don't use often into the garage or another room in your home). Also, make sure that your kitchen workspace is cleared and open – this also means letting go of those overly decorative items that only collect dust in the kitchen. Store any additional stools or tables, which may be taking up unnecessary space in the kitchen, away when not using them.
While you're streamlining your kitchen, remove those clunky handles from your cabinet doors and to replace them with flat, minimalist ones – a small, affordable change that will have a big impact.
Focus on the lighting
We all know that a well-lit space makes any room look bigger. So, apply this rule to your kitchen too. Let in as much natural light as possible – remove any window treatment that might be blocking or preventing light from flowing in. Add "layers" of lighting instead of using one florescent light: do this by incorporating sunken lights throughout the ceiling, adding a few spots under the top cabinets and finishing off with one or two pendant lights over a key area, like the work area or counter area where you might eat.
If your kitchen is really dark and doesn't get much natural light, it might be worth installing a skylight. This little roof "light" can work magic to make your kitchen look brighter and bigger.
Make it light and bright
One of the key rules that apply to all small spaces and rooms is to forgo dark colours and embrace lighter shades. White or cream, in particular, has a way of creating the illusion of receding walls –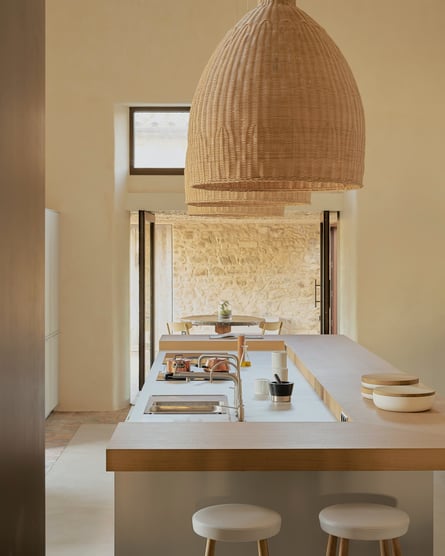 and, thus, make a space feel bigger. For those worried that an all white kitchen will make it feel sterile and boring, simply add a few different shades of white and combine contrasting textures such as subway-style tiles alongside quarts countertops and light wooden shelves or cabinets.
Keep it simple
We all love a little detail and decorating, right? But one of the biggest mistakes to make in a small kitchen is to add patterned tiles, like the very popular Moroccan tiles, to the walls or floors. Not only will these tiles look dated in a year or two, but they can also make an already small space feel cluttered and, thus, smaller.
If you do want to add some detailing to your floor or walls, consider using tiles or flooring that create a chevron pattern – this will create diagonal lines that draw the eye from one side of the kitchen to the other side; instantly making the space look and feel bigger.
Streamline roof to floor
One of the key tricks to making a room feel bigger is to create the illusion of higher ceilings. And it can be done very simply by extending your cabinets to the ceiling or to add moulding to the top of the cabinets that will draw the eye upwards.
If you're not keen on extending your cabinets or replacing them, consider adding decorative prints or patterned tiles in the small area above the cabinet. This will also help draw the eye upward and create the illusion of a bigger space. Keep in mind, however, that the prints or patterned tiles need to harmonise with the rest of the kitchen; if it's too different to the rest of the kitchen it can make it look cluttered and the space can feel smaller.