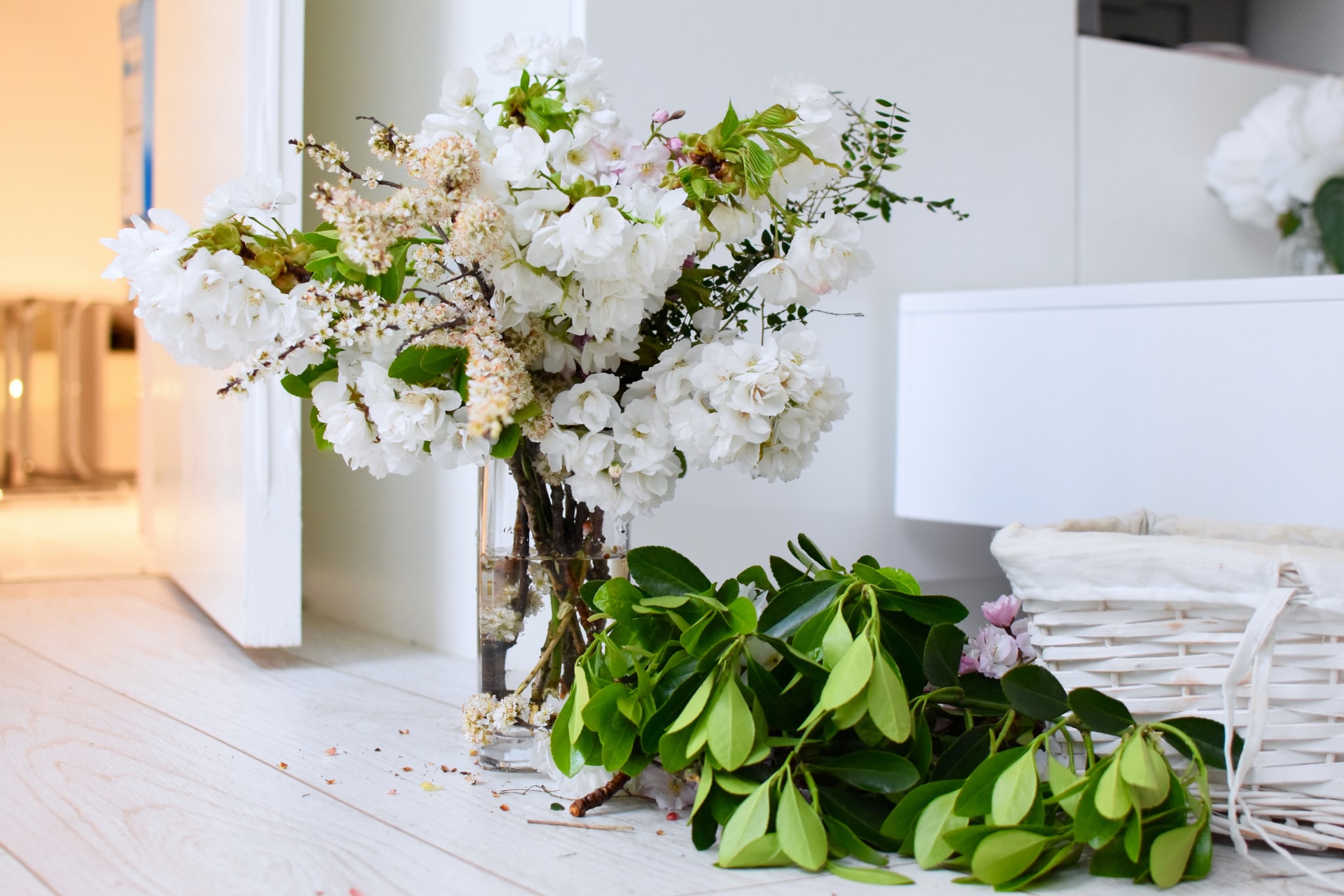 There's no better way to show your love than by creating something special and unique to celebrate your mom, so we've rounded up some simple DIY projects to show how much you care:
Fresh Farmhouse Chalkboard Herb Planters
Growing herbs is simple, and fun but the best thing about them is that they can be grown all year round! In a few simple steps, you can create a customised modern farmhouse-style herb planter for mom to keep in the kitchen. You can always use your DIY herb garden for some mid-week dinner inspiration!
You can purchase a simple wooden planter box from your local nursery or supermarket. For this farmhouse-style inspired planter, you'll need:
Wooden planter box
3 x Galvanised buckets
Chalk paint
Paintbrush
Chalk or chalkboard marker
Masking tape
Your favourite herbs or plants
Potting soil
Using a bit of masking tape, you can tape across the midway line of the box so that the top half of the wooden planter is still exposed. This will create a cool contrast of black paint and woodgrain. Make sure to wipe the planter before painting. On the bottom half, paint on two coats of chalkboard paint, letting the first coat of paint dry before applying the second.
To get your galvanised planters ready and allow for good drainage, add some river rocks or stones at the bottom before placing the herb seedlings. Plant your herbs in their pots and top up with potting soil as needed. Some of our favourites herbs are rosemary for Sunday roasts, coriander for a midweek curry and mint for some wonderful drinks garnishes.
Once your chalk paint is completely dry, for a customised touch, you can write the names of the plants on the planter boxes in chalk or chalkboard marker. If you change out the herbs, you can easily write the new names and watch them grow!
If you're looking for something other than herbs for your new planter, check out our list of top plants to green your indoor space.
Hand Stamped Tea Towels
You can never have enough tea towels! Why not make a special set this mother's day with this simple hand printing hack.
What you'll need:
White or other light coloured tea towels (we prefer the flour sack tea towels or linen)
Citrus (lemon, grapefruits or oranges)
Fabric paint in your selected colours
Paintbrushes
If you're going to use the tea towels for mere decoration, you can use whatever paint you have. Should you want to use them and be able to wash them after use, you will need to use fabric paint. You can find non-toxic and eco-friendly fabric paint at any art supplies store.
Citrus can be really juicy, so a top tip is to cut the citrus in half to create your stamp and then leave them in the fridge to dry out a bit. You can also blot them on a paper towel or newspaper a few times before painting on the paint and in between in stamping.
Paint the halved citrus gently and press down onto the tea towel. Cover the citrus stamp with a light layer of paint to get the outline of the segments. Make sure not to add too much paint as it will come out as circles without definition. The best way to get a feel for how much paint you need is to try a few stamping tests on a paper towel.
This stamping hack is straightforward, but you can get creative with the colours, layout and patterns. These are one of a kind and will be sure to liven up your mom's kitchen space.
Customised Kitchen Utensils

It couldn't be easier to create a unique pop of colour in the kitchen with this simple customised kitchen utensil project.
What you'll need:
Assorted Wooden utensils
Acrylic paint
Paper towel
Masking tape
Foam brush
Water
Create strips using the masking tape to tape the utensils as straight as you can, making sure the masking tape meets flush on both sides.
Paint the spoons in your selected colours using the sponge brush, alternating colours as you go along. Make sure to complete three coats of paint to ensure regular use without wear or chips. Make sure to wait until the paint is completely dry before applying the next coat.
Once all dried, you can remove the tape carefully and finish with any required touch-ups. And you're done! This one-of-kind functional gift is perfect for prepping your next family meal together in style.
Family Recipe Box

Does your mother have little pieces of paper with recipes written on them stuck up on the fridge or in a tattered folder? Maybe she has clippings of recipes from magazines and newspapers that don't have a proper home. Or perhaps she has been meaning to collect some of grandmother's recipes and write them all out to keep in one place but hasn't gotten started. Then a recipe box could be a great gift for your mom!
You could find an old wooden box, make your own with simple plywood if you have woodworking tools at your disposal, or you could use an old recycled small cardboard box, or find a small box used for index cards at your local art supplies store. You can then use paint, wallpaper, wrapping paper or fabric to cover the box so that it is beautifully decorated in a way that suits your mom's style and taste. Perhaps add a few family recipes to the box as part of the gift!
At Home Bath Tea
Bath tea is simply a bath soak packaged in a pretty teabag loaded with fragrance and dried flowers. Thanks to the nourishing ingredients, it has the added benefit of relieving tension and stress, softening skin and soothing sore muscles. Epsom salts to the rescue to give mom some DIY spa time!
For single-use bath tea, teabags can be sourced and used. However, if you'd like a reusable option, muslin or organza is an excellent material to use for the bags. The most cost-effective and sustainable bath tea mixture can be gifted and stored in pickling jars with a few bath tea bags for reuse.
What you'll need:
250 g Epsom salts as a base.
125 g Dried flower buds. Our favourites are lavender, chamomile and rosebuds.
3 to 5 drops of your favourite essential oils. Our go-tos are chamomile, citrus, rose and lavender.
Tea bags, muslin or organza bags with a drawstring.
Pickling or mason jars to store your bath tea bags.
Ribbons, washi tape, labels and any other craft materials to decorate the storage jars.
Recipe
Mix the Epsom salts with the essential oils,
Add 3 tablespoons of your bath tea base mixture into your little bags,
Layer the dried flowers on top,
Tie the bags with a bow and store in an airtight container to keep fresh. We suggest a mason or pickling jar sourced from a grocery or packaging supplies store.
How do you use bath tea?
Add a single bag directly to the bathwater or hang under the running tap as the bath fills. The Epsom salts will dissolve, and the oils and flowers will create a fragrance for a relaxing home spa experience. Collect the flowers out of the bath before draining. Rinse out the bag and hang to dry for the next use.