The warm weather has begun, and markets are beginning to open! We've selected some COVID safe and sunny markets to visit with the family and enjoy some shopping, a bite to eat, support local makers, or to collect some weekly fresh produce, all while supporting the local community. All these markets are adhering to the suggested health and safety protocols for COVID-19 safety. Always remember to wear your mask, keep a safe distance and pack a small essential bag with sanitiser, moisturiser, sun block and wet wipes to keep you feeling refreshed and protected from the sunshine.
KWAZULU-NATAL
Where: 457 Mr551 Rd, Shongweni Resource Reserve, Shongweni.
What: Established in 1998 by the Standeaven family, this market began to help local farmers sell surplus produce. Starting with a mere twelve stalls, the market has grown to be a bustling family-friendly destination to sample and purchase from a plethora of fine food purveyor around the area. You can buy fresh produce and meat straight from the producer, sparking a connection that allows you to know precisely where your weekly dinners are coming from. The added benefit is that you can learn about the produce straight from the farmers and butchers themselves. The pet-friendly market is also home to craft vendors, pet-product stalls, and live music. There are play areas for the kids, and the market is completely wheel chair friendly.
When: Saturdays 6:30 to 12:30.
Where: 151/155 Bertha Mkhize Street, Durban Central, Durban.
What: Right in the middle of Durban central, the Victoria Street Market, with a staggering two hundred vendors, is truly a must-see destination. You can purchase almost anything you can dream up. On offer is everything from brassware, African artwork, fresh produce, Indian spices, traditional clothing, and much more. Some historical attractions nearby are The Emmanuel Cathedral, the Gandhi Library, the Early Morning Market, and the Juma Masjid Mosque, which were all significant destinations in the struggle for South Africa's democracy. For a unique and historical experience, the Victoria Street Market is a must-see.
When: Monday to Friday at 8:00 17:00; Saturday 08:00 to 16:00 and Sunday 09:00 to 15:00.
GAUTENG
Where: 50 Bath Ave, Rosebank, Johannesburg
What: The vision for the Rosebank Sunday Market is to provide a space to showcase South Africa in all of it's diversity, with over two hundred traders showcase their products at the Rosebank Sunday Market, so there is truly something for everyone. On offer is a melting pot of antiques, handmade crafts, local apparel, tasty treats, vintage goods, spices, artisanal bread, cheese, and cured meats. Overlooking the stunning Jozi skyline, be sure to find children's entertainment each week and live entertainment every last Sunday of the month. Check the market's Facebook page for more info on quiz nights, DJs, live music line-ups, and much more.
When: Open any given Sunday from 9:00 to 16:00.
Where: The Big Red Barn, 7 Nelson Road, Sunlawns, Olifantsfontein.
What: Waiting for you at the Big Red Barn is a family-friendly arts and crafts market like no other.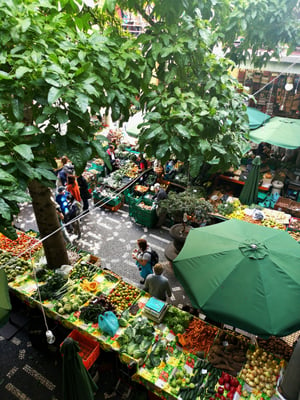 Situated on Sunlawns Estate overlooking the beautiful flora-filled Kaal river grounds, you can peruse a curated selection of local arts and crafts. For the more adventurous in the family, there are child-friendly Acrobranch and Segway tours. For some outdoorsy fun, mountain bikers and trail runners can explore routes up to 30km and enjoy a post-workout brunch at Olifant's cafe back at the Big Red Barn. Your fur-kids are welcome as well, so bring them along for some pawsome family fun.
When: 08:00 to 13:00 on the first and last Saturday of the month.
WESTERN CAPE
Where: The Old Biscuit Mill | 373 Albert Road Woodstock, Cape Town.
What: Founded by Justin Rhodes and Cameron Munro in 2006, the award-winning Neighbourgoods market houses over one hundred local vendors at Woodstock's beautiful Old Biscuit Mill. There is much to be enjoyed at this industrial courtyard like local farm produce, specialty food purveyors, organic produce, and fresh bakery offerings. One of the best things about it is the sheer array of tasty moreish street food. Everything from eggs Benedict, traditional Belgian waffles to Chinese dim sum, or melty toasted sandwiches are on offer for a perfect breakfast, brunch, or fantastic lunch. If you're looking for a special treat, you can walk across the courtyard for local clothing, crafted goods, and leather goods on offer.
When: Saturdays 09:00 to 15:00
Where: 30 Regent Rd, Sea Point, Cape Town.
What: Find your mojo at the Mojo Market in beautiful, sunny Sea Point. There is often live music on offer, sport event screenings, and a spoil of choices for a bite to eat, just off Sea Point main road and only a few steps to the beautiful ocean view. Grab some local artisan ice-cream or dunked mini donuts and take a stroll with the family at the Sea Point promenade, which is a block or two away. With plenty of places to sit in the open and spacious dining area, you can always try the global cuisines on offer from specialty macaroni, fresh oysters, burritos, pizza, ramen, and much more.
When: 7 days a week. 11:00 to 23:00.
Where: The Oude Libertas, Oude Libertas Road, Stellenbosch
What: Founded in 2008 by doctor Gail Blake, the Slow Food Market is situated on the historic Oude Libertas estate. Nestled between beautiful vineyards and oak trees, this pet-friendly gem has over one hundred local traders demonstrating some of South Africa's finest fair. From fresh produce and artisan eats to local crafts and fancy food. Committed to the slow food movement of clean, ethical, and fair produce, this bunch is dedicated to getting you your family weekend outing fix as they trade come rain or shine. And the major bonus is that there's another Slow Market at Willowbridge Lifestyle center, Tygervalley.
When: Saturday 09:00 to 14:00
EASTERN CAPE
Where: N2 Hwy & R72 Alexandria, Port Elizabeth.
What: Off the beaten track, nestled in the surrounding areas of Port Elizabeth, lies Nanaga farm stall and restaurant. Not only a wonderful rest-stop for weary travelers and family road trips but a fair of farm-fresh local produce. The highlights include freshly squeezed pineapple juice, famous farm-style pies, and straight out of the oven roosterkoek with a variety of sweet or savory toppings. Whether you're looking for a quick stop for some padkos or a place to find homemade preserves and farm produce, Nanaga is your one-stop shop.
When: Open 7 days a week. 8:00 to 17:30.
Where: Old Gonubie Rd, East London.
What: A relaxed outdoor destination that's fun for the whole family is what Lavender Blue is known for by the many locals visiting this eclectic and homey establishment. Lavender Blue offers sweet and savoury gourmet goodies, local farm-fresh produce, and great food with a kiddies menu to boot. There is a magical outdoor area for the kids to play, complete with multiple jungle gyms, obstacles, and slides overlooking the geese filled dam. On top of all that there is a range of handmade jewelry, clothing and crafty knickknacks on offer inside the main building. Visit for a brilliant brunch, some high energy fun for the kids, and you can leave with some fresh organic fruit and veggies for the upcoming week's dinners.
When: Tuesday to Sundays from 7:30 to 14:00. Closed on Mondays.