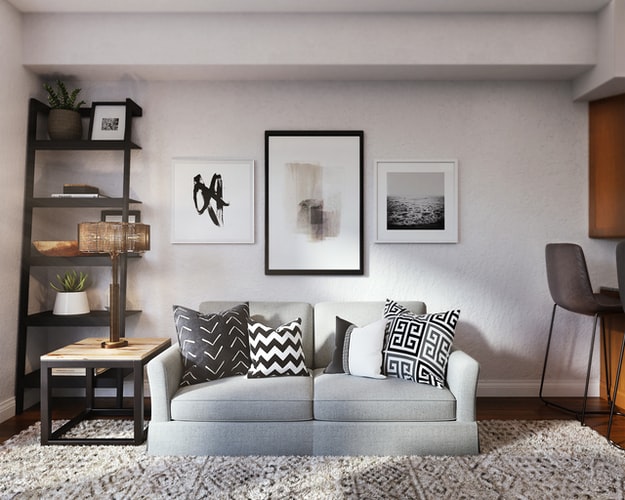 Whether you're working flexi-hours, a hard nine to five, or searching for your next job, a functional and fun workspace does wonders to bring out your best performance. Working from home is here to stay, but our makeshift office spaces can stifle our productivity and be downright uninspiring.
We've all been there, it's 12:30, and you're still in your pyjamas tapping away at your work email, and you're feeling all entirely unmotivated. What if all we need is to mix things up to inject a little life into our work from home spaces? We take you through some affordable décor, space-saving and productivity-boosting hacks so you can refresh your space and get back to your best work ever!
Embrace vibrant colour
A pop of crazy colour can turn any humdrum space into something special and can brighten up your mood on long days. If your workspace is small, you can bring it to life with some bright colour and bold accessories. Leave the all-white behind and go for bright or deep colours like navy and forest green. If you're not used to bright colours on the walls, why not try adding a pop of colour with a bright desk chair or some cheerful stationery like storage boxes and pencil holders.
Add a comfy couch or day bed
It may not always be the best idea to mix work and play, but sometimes a place to take a break or relax while you take calls is just what you need. Of course, the pre-requisite here is that you have a larger space but adding a comfy couch or day bed is a great way to change it up when you have long calls or reading to do.
A chalkboard to-do list
Adding a playful touch to the office doesn't have to be complicated. Chalkboard paint is a cost-effective way to have your notes and to-do list big and bold, so you don't forget anything. Get a bunch of different coloured chalk, and the kids will love it too!
Of course, a dedicated workspace helps us focus and put aside household distractions but often, we don't have an extra room to build the office of our dreams. But, not to worry, there are simple and effective solutions that can set you up with a hyper-productive space that doesn't need to break the bank.
Mount your workspace on the wall
You don't need vast amounts of space when you can mount your desk to the wall. This flip-down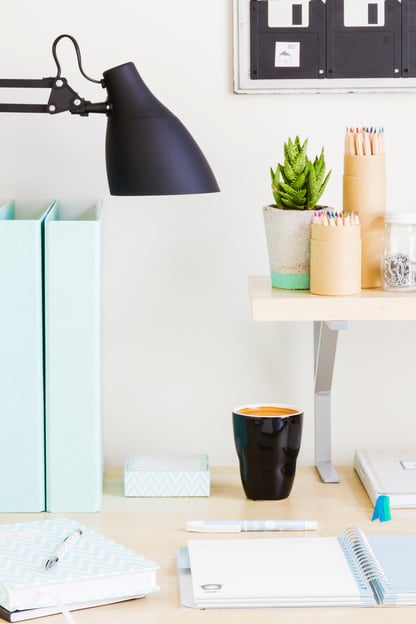 workstation can fit almost anywhere in the house, and when you're done, you can flip it down to free up floor space again. Complete this area by adding modular track shelving for storage.
Create a work nook
Many of us have a few areas of the house that are a little awkward and inconvenient. Maybe it's an oddly angled wall or a cut off corner or crevice. Instead of wasting that space or spending money on renovating, instead repurpose the awkward by creating a little work nook of your own. It requires a little creativity and perhaps some furniture shuffling, but it's well worth the time to reclaim that unused space.
Set up a workspace in your kitchen
An office in the kitchen?! Yip, there are plenty of ways to carve out some space for work in amongst the kitchen chaos. Usually, this requires you to repurpose or buy a new bar stool for the island or countertop. This may end up being a mini office area, but it will help you make the very most out of your kitchen space. There may even be some dead space where you can mount a small flip-down desk. Island storage is also a great way to add to the organizational area to make your kitchen office work.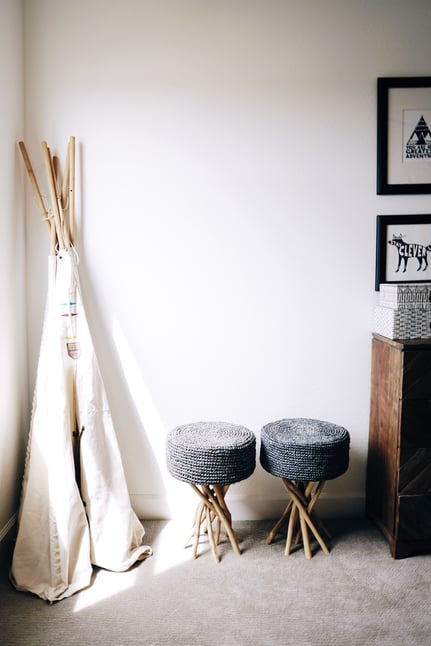 Create an office and playroom together
Double duty rooms are the way to go when you're short on square meterage. If you don't have separate rooms and have small kids, having a play area and office together is a great option to keep a watchful eye on the kiddos while you're on your morning video conferences. When work is all done for the week, the kids then have a dedicated weekend play space too. To happily co-exist in this kind of setup, it's essential to have clever storage solutions like baskets and crates for toys and lots of wall shelving to store all your work things out of reach of the children.
Repurpose an unused closet
No office space in sight? Well, you can create some hidden space by removing the doors from an empty closet. These built-in closet doors are easily removed and replaced, so there's no need to worry about doing any heavy lifting. You can use an existing shelf or a desk that fills the closet space for the work surface. You can spruce up your new space with LED lighting, wallpaper, and other decorative items.
Introduce wood and metallic accents
Invite some warmth into your space by adding some wood accessories or storage boxes. Natural tones and textures can warm up any neutral room and help invite some calm. If you're looking for a more modern edge, try adding some copper, silver and gold accents through plant pots, lamps, and wastebaskets.
Try simple shelving solutions
Don't worry if you don't have enough cupboard or drawer space. There are tons of cost-effective shelving solutions nowadays that even the DIY novice can easily install. Try track shelving that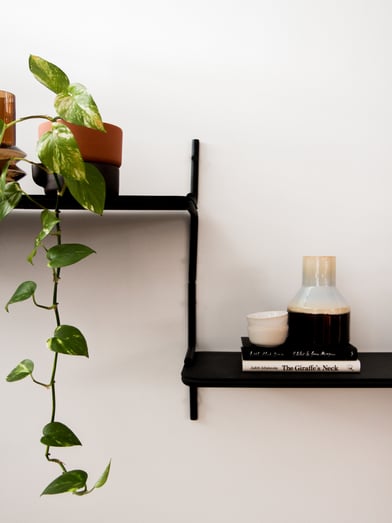 gives the option to move your shelves around as your needs change. For a functional and attractive workspace, you can store files, books, storage crates, stationery, and decorative pieces above your desk.
Use storage baskets and wire organizers
Baskets and wire bins are an excellent way to organize clutter and ensure that everything has its own place. Wire solutions are great because you can see the basket's content, so no more searching for your stapler lost in a junk drawer. You can also use these storage solutions to add a pop of colour or funky pattern.
Bring the outdoors in
There's no easier way to inject new life and colour into your office space than to add some plants to the mix. Succulents are a hardy option and require very little maintenance. Give peace lilies, lady palms, snake and spider plants a try, too, as they have air-purifying qualities that can add a breath of fresh air to your space.