It's official, summer is around the corner! This year, instead of just packing away those winter woollies and calling it quits, why not give your home some summer loving as well?
Here's a few tips on how you can get started:
Send winter packing
Those cosy cushion covers and layered throws are all wonderfully warming in winter, but can make interiors feel overly cluttered and stuffy in the heat. If you can't see yourself snuggling into that pile of velvety cushions or tucking that faux fur rug over your knees, it's time to pack them away where they'll stay clean and fresh for next season.
Soft furnishings aren't the only things we tend to collect during winter, either – decorative knick-knacks have a habit of building up as well.
Try to clear out as much unnecessary clutter as possible to get that easy, breezy summer vibe. You don't want a totally blank canvass, but you do want some room to breathe.
Colour it casual
When it comes to making a space feel lighter and brighter, there's nothing more powerful than colour.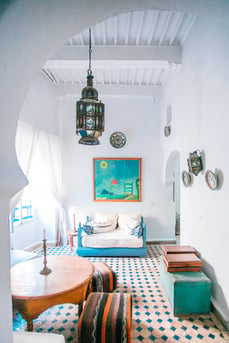 Summer is all about fresh, juicy hues, so replace winter's intense tones with cool, ice-cream pastels or palettes inspired by fruity sorbets or tropical prints. Nautical blues and whites are also timeless choices that pair particularly well with natural materials like wood, linen, cotton and cane.
Get personal with prints
This season has some incredible textile prints to choose from, and they make amazing accents to add personality to any summer space. Choose from bold tropicals, delicate florals, exotic geometrics and more. Don't be scared to mix and match for a more eclectic feel – summer is the perfect time for light-hearted fun, so get playful with your choices.
Bring the outdoors in
Indoor plants are making a huge comeback at the moment, and they are a perfect way to introduce a touch of summer into your home.
Tropical-styled delicious monsters (monstera deliciosa) are the most gorgeous choices for a pop of lush green, but simple succulents and air plants are also extremely trendy and attractive. If you're feeling a little more adventurous, you also get some miniature fruit tree varietals that thrive indoors in the right light conditions, and produce scented blossoms and fruit as well.
If you don't have green thumb, don't worry – plants aren't the only way to embrace the outdoors. Consider introducing natural materials like raw wood, sandstone, seagrass and loose-weave linens to bring nature into your home.
Take the indoors out
There's nothing better than alfresco entertaining on a balmy summer's day, and it is highly recommended giving your outdoor areas a little love to make this as enjoyable as possible.
Outdoor entertainment areas are extremely popular with property buyers, so don't be afraid to invest a little money in this area – it'll pay off down the line. If you have the space, a covered patio with a built-in braai is a fantastic option, but a neatly paved area with a few outdoor couches or a dining table and a big umbrella can be just as nice.
When planning an outdoor space, remember not to overlook lighting.
The right lights are essential from an ambiance perspective as well as a functional one. There are a lot of solar options available these days that are great for areas where it's difficult to get power. Candles, lanterns and torches can be very romantic additions as well.
Look on the bright side
No matter how you choose to embrace the summer season, fun should always be the focus.
Your home is your playground, and should always reflect the uniqueness of you. Don't get too caught up in what's trendy and forget about the things that make you and your loved ones smile.