Ballito is a popular holiday town on KwaZulu Natal's Dolphin Coast, approximately 46 kilometres from Durban. This sub-tropical Eden is bounded by sugar cane fields on one side and the Indian Ocean on the other.
"The area has grown in popularity over the past few decades," says Leon Breytenbach, National Manager of the Rawson Property Group's commercial division, "but the siting of the King Shaka International Airport about 30 kilometres south of Ballito was a major factor in the rise in tourism along the entire north coast."
Accompanying tourism, all related enterprises such as hotels, guest houses, entertainment, retail outlets, transport, and restaurants sprang up in this erstwhile sleepy hollow, previously given over to sport fishing, surfing, or sugar cane production. However, since the advent of the new airport, business has expanded exponentially. Access to Ballito is via the N2 freeway which extends all the way along the KwaZulu Natal coast offering a convenient route to visit the many popular tourist destinations, including several popular nature reserves in the north of the province.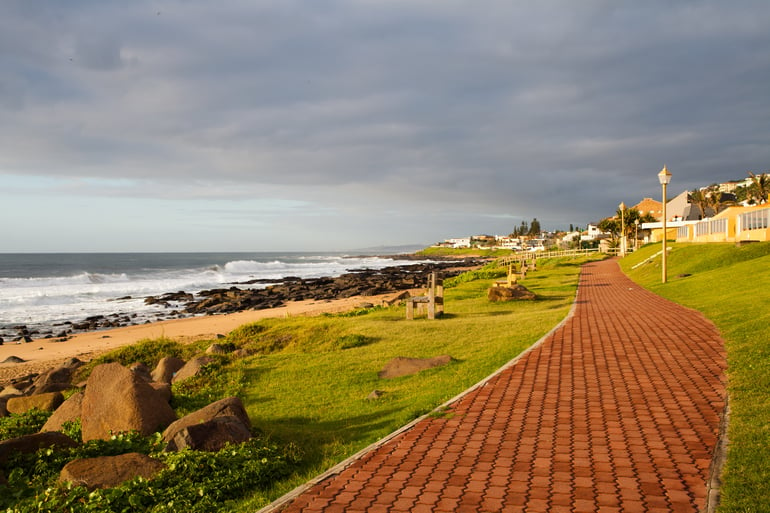 Amenities
The town boasts most services and suppliers as may be sought by both residents and tourists alike. The wide variety of shops caters for every taste. Both permanent or holiday accommodation is available, as well as banks, legal firms, medical and dental practitioners, besides the Netcare Alberlito Hospital. Both state or privately run pre-primary and primary schools are available, as well as several independently owned high schools. Residents are presently lobbying for a state run high school in the area but the project is still under negotiation. This would be a major gain for the residents of the Ballito area.
Facts and figures
Ballito offers a total of 45,943 square metres of rentable office space, consisting of 7,144 square metres of prime grade, 17,230 square metres of A grade, 8,578 square metres of B grade and 12,991 square metres of C grade. Of this, there is no prime grade space currently available while just over 2,000 square metres of A grade, 500 square metres of B grade and under 200 square metres of C grade remain vacant, according to the SAPOA report for the fourth quarter of 2016. In December 2016 the vacancy percentage stood at just under 6%, down from the first two quarters which were a little over 7%. There were no approved, future developments recorded at the time of going to print.
Commercial space
The report offers no rental costs for prime office space since none is currently available, but A grade space is shown as averaging R115 per month, while B grade stands at R72 and C grade at a slightly higher R85 per month. "Besides some smaller shopping centres, there are three shopping malls as well as a large commercial business park close to the N2 freeway," says Breytenbach.The Ballito Business Park offers space for warehousing or light industrial enterprises as well as some mini-factory complexes. Access to the N2 freeway provides a viable route for transporting manufactured goods, either south to Durban or up to northern KwaZulu Natal and inland to Gauteng.
Ballito may have become a burgeoning growth point on the north coast, but it has not lost its small town charm as a holiday destination. "For any business not requiring a big city location, Ballito offers a most attractive alternative," says Breytenbach. What a perfect spot to live, work and relax.
To find great commercial property in Ballito or anywhere else in South Africa, contact us, Rawson Commercial, on (021) 658 7100 and we will refer you to your nearest office.