03 August 2022
Have some fun and imagine this: It's the Jurassic Period and our hero returns to his humble abode - a cave, of course - after a long, hard day of hunting. All he can think about is settling down for a quiet night in. The local wildlife, however, has other ideas. Perched nearby, the wily pterodactyl widens its jaw and sends out an obnoxious call, followed by another and another … If only there was a quieter place to move to …
He's not alone! Fast forward 200 million years and man is still dealing with the challenges of nature… Noisy hadedas, messy birds ruining your brand new car's paint job, you name it. Luckily, these days you have experts like the Rawson Property Group, who are here to help you move on to bigger and better things - the easy way!
Celebrating the big 40 by painting the country yellow
After 40 years in the business, we're just as excited and energised as the day we first started - ready to assist you with turning your dream home into the place you call home, so that you can move on and get back to living your best life.
Believe it or not, at least one million South Africans a year add "time to move" to their top goals and we want to make this a reality for everyone. Sometimes your reasons to move are big – maybe you want to expand your family but can't expand your elbows or, thanks to your new job, you're spending four episodes worth of your favourite television series in traffic every day! This, naturally, has you wondering – is it time to move?
Or maybe it's something small that gets bigger and bigger – like when the friendly neighbour starts becoming the stalker neighbour, or when your tiny 'mixed breed' puppy grows into something resembling a mountain lion. And then there are times when bigger is exactly what you're looking for - a bigger kitchen, an actual garage, or that home office you've been dreaming of since 2020. Whatever it is, we're always here ready to listen, so that we can help you make your best move!
You might have seen or heard us ask the question: "Time to move?", on everything from billboards to radio airwaves to social media. We've turned this into a fun and engaging campaign aimed at highlighting the many aspirational, unavoidable and just downright crazy reasons why people decide it's time to move.
And what crazier way to have fun with crazy reasons to move than to throw a couple of huge hadedas and a gigantic pterodactyl on a billboard at one of the biggest, busiest traffic hotspots in South Africa? Think :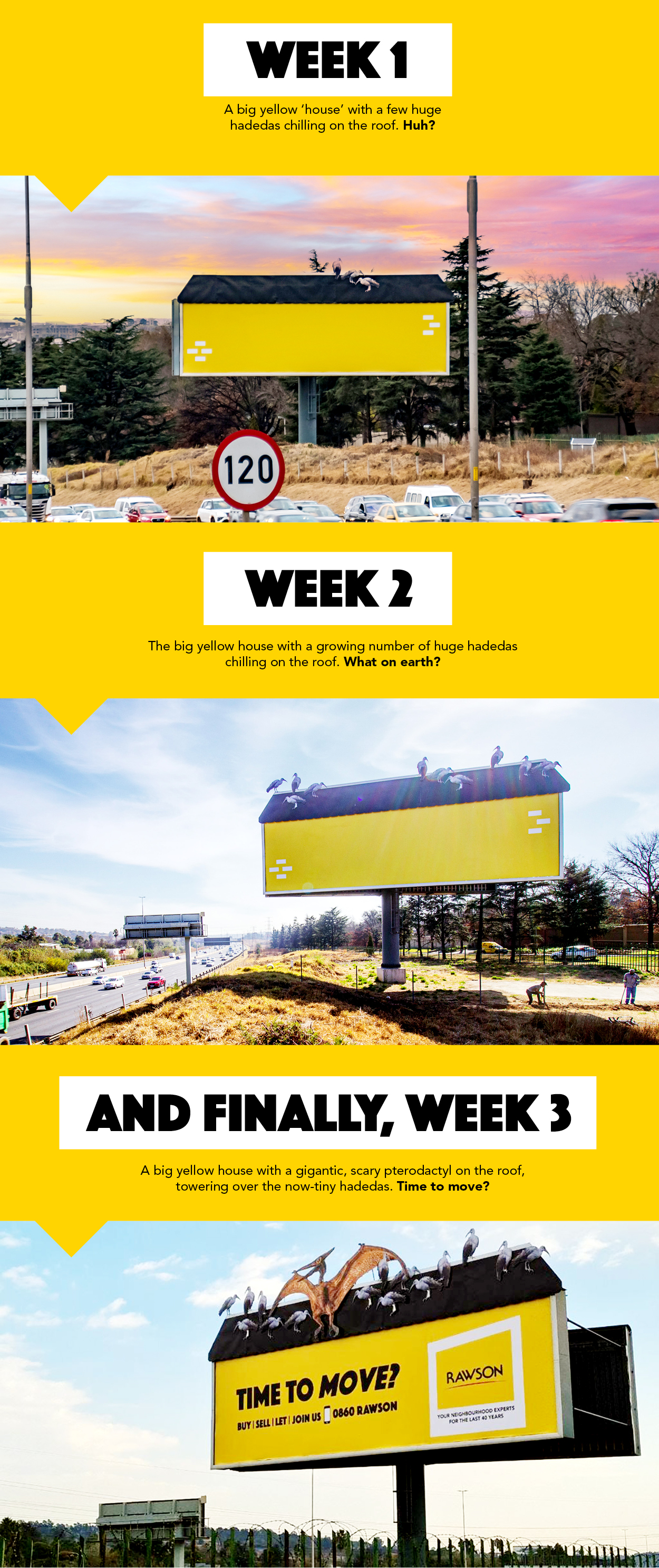 Our evolving billboard at Gillooly's Interchange is one of hundreds of billboards and adverts popping up across the country - all aimed at making people smile about the dreams, aspirations and downright irritations linked to the decision to move elsewhere.
At the end of the day, we're passionate about adding value - turning traffic smiles into happy clients making informed property decisions. Our legacy in the property market and true neighbourhood expertise will ensure that when you choose the Rawson family to help you make your move, it's always a move in the right direction.
Whether you want to miss the traffic mayhem on the way to work, or find a place where your parents can feel at home; whether you need to up your space to accommodate the triplets, or dream of moving out and making it on your own: Let us help you make buying, selling and renting property easy - and fun!
While we're on hadedas . .