Spring is officially here – despite the inclement weather many of us have been experiencing – and now is a good time to refresh your space. Here are some of our favourite simple garden ideas that will get your yard, patio, courtyard or indoor planters summer-ready. Think of your garden as a fresh, new canvas, ready for a riot of colour. No matter the size of your space, or whether you're a seasoned green thumb or novice, we have some tips and tricks that will get you growing.

What's potting?
If you already have an existing garden or potted plant system, now is the time to do the following: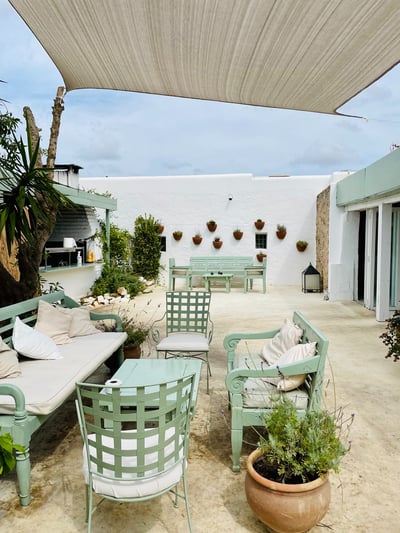 Prune and trim away overgrown branches, shape hedges and shrubs and remove the dead or frost-damaged flowers or plants from your indoor or outdoor garden;
Replace your old potting mix with fresh soil to provide your plants with the nutrients they need. You might also want to re-pot any of your plants that have roots growing out of the drainage holes;
Inspect your plants and flowers for pests or disease. Early detection and treatment are key!
Become a soil saviour
Healthy soil is the foundation for a flourishing modern garden and with summer slated to be very hot and dry, this is even more important than ever. To give your plants the best fighting chance, you need to start enriching your soil now.
Add compost, manure, bone meal or slow-release organic fertiliser to your soil to enhance water absorption, strengthen plant roots, reduce water runoff and help your greenery become more resilient.





Thank you very mulch




If you want your plants or flowers to thrive, mulch is your friend. Water is the elixir of life for plants and mulch is one of the magic ingredients:





It acts as a natural barrier, reducing water evaporation and maintaining consistent soil moisture levels. This means that you won't need to water your plants as frequently;




A thick layer of mulch will also stop weeds from growing, prevent soil erosion and act as a deterrent against certain pests;




Just like a good duvet, mulch will keep your plants cooler in summer and warmer in winter.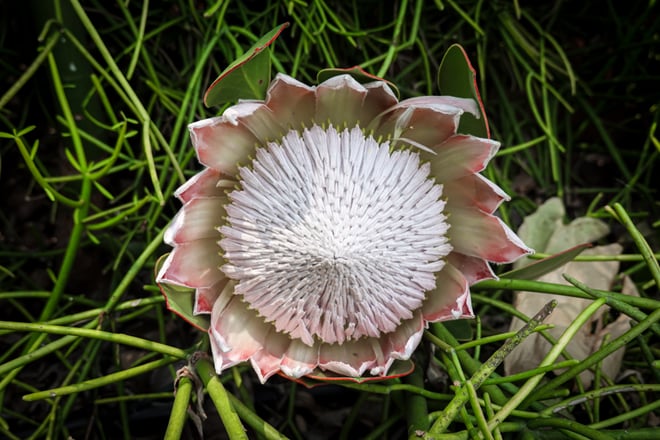 Go local
We have such a rich diversity of indigenous plant species here in South Africa and many of them are adapted to cope with our climate.
Indigenous plants are often drought-tolerant, making them well-suited to some of our more water-scarce regions.

Many of these plants are perfectly suited if you are looking for succulent garden ideas;

They also attract local birds and butterflies, which increases the ecological balance of your garden;
Many indigenous plants are also low maintenance, requiring less fertiliser and water, making gardening much simpler for beginners!
Some fan favourites include the Cape daisy, freesia, agapanthus, aloe, arum, buchu, clivia, lavender, the Cape honeysuckle and the ever-famous bird of paradise plant.
Got thyme?
Get your kitchen garden growing with this easy herb garden idea!
Sow your seeds in containers and pots, in a vertical setup or a dedicated space in your garden. These types of plants like sunny spots, so choose the best option for your home;

Some simple starters include basil, thyme, celery, coriander, rocket, fennel, parsley, green peppers, lettuce, radishes and cherry tomatoes. Just follow the instructions on the seed packets or pick up a few already-grown options from the nursery!



Heaps of fun


Our last tip is to create your own compost. Not only does this reduce waste but it is also a cost-effective way to boost your indoor and outdoor gardens. Compost is rich in nutrients and your plants will love it!





Buy or make a compost bin that has good aeration and drainage;




Gather kitchen scraps, like fruit and vegetable peels, coffee grounds and eggshells. Combine them with garden waste, such as leaves, twigs, branches or grass clippings. Avoid diseased plants, meat, dairy and pet waste;




Add soil to the mix to introduce microorganisms. Turn the compost regularly to aerate it and assist with breaking down the waste;




Keep the mixture moist but not waterlogged. This will help prevent unpleasant smells!




Depending on how big your compost bin is, compost can take months to a year to mature. Your compost will be ready when it stops producing heat, smells deeply earthy, doesn't resemble its original organic materials and is dark and crumbly. It should also have reduced in size by about half.