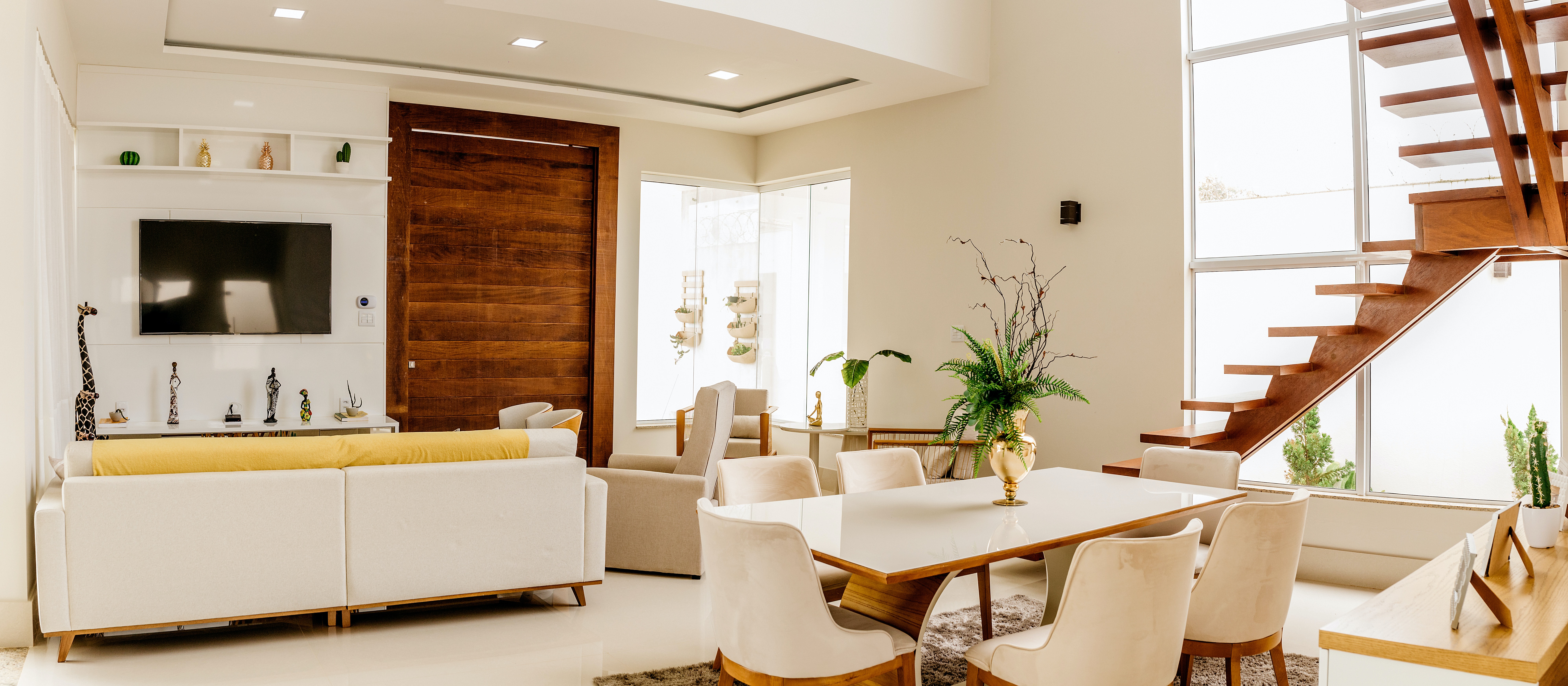 Creating flow in a house can be tricky to get right. Making rooms flow together requires architectural planning, thoughtful decor, and a design eye. But done well, an open-plan space can be expansive and inviting, allowing you to enjoy larger spaces with family and friends. Interested in open-living or just moved into a place with an open floor plan? We take you through six tips on creating flow and cohesion so that every design element works together.
Picking Paint for Cohesion
When connecting different spaces in your home, especially with open floor plans, focus on picking the perfect base paint colour. A primarily neutral tone is never a bad bet, but you don't necessarily have to choose white. Plenty of light blues, greys, beiges and even warmer pinks can act as a great base.
Taking a consistent colour from one room into another helps seamlessly connect the spaces in your home. Of course, you can experiment with bolder colours in the bedrooms and bathrooms, but the foyer, passageways, and main living areas should all have a cohesive colour that sets the tone for the styling.
Now that the base connecting colours are set, you can start playing with accent colours. Choosing two or three colours that can feature as accents across the connecting rooms is essential. More than three colours can be overwhelming and difficult to style, so keep it simple with two to three of your favourite colours. You can always have shades of these colours for variety.
Once you have your accents, you can plan for continuity across the connecting rooms. For example, you can have green and blue in the kitchen, brown and blue in the lounge and shades of blue and grey in the foyer. Here you are using blue as the connecting colour that ties these rooms together without being repetitive. This colour continuity will help the rooms flow into one another and leave you with a consistent aesthetic.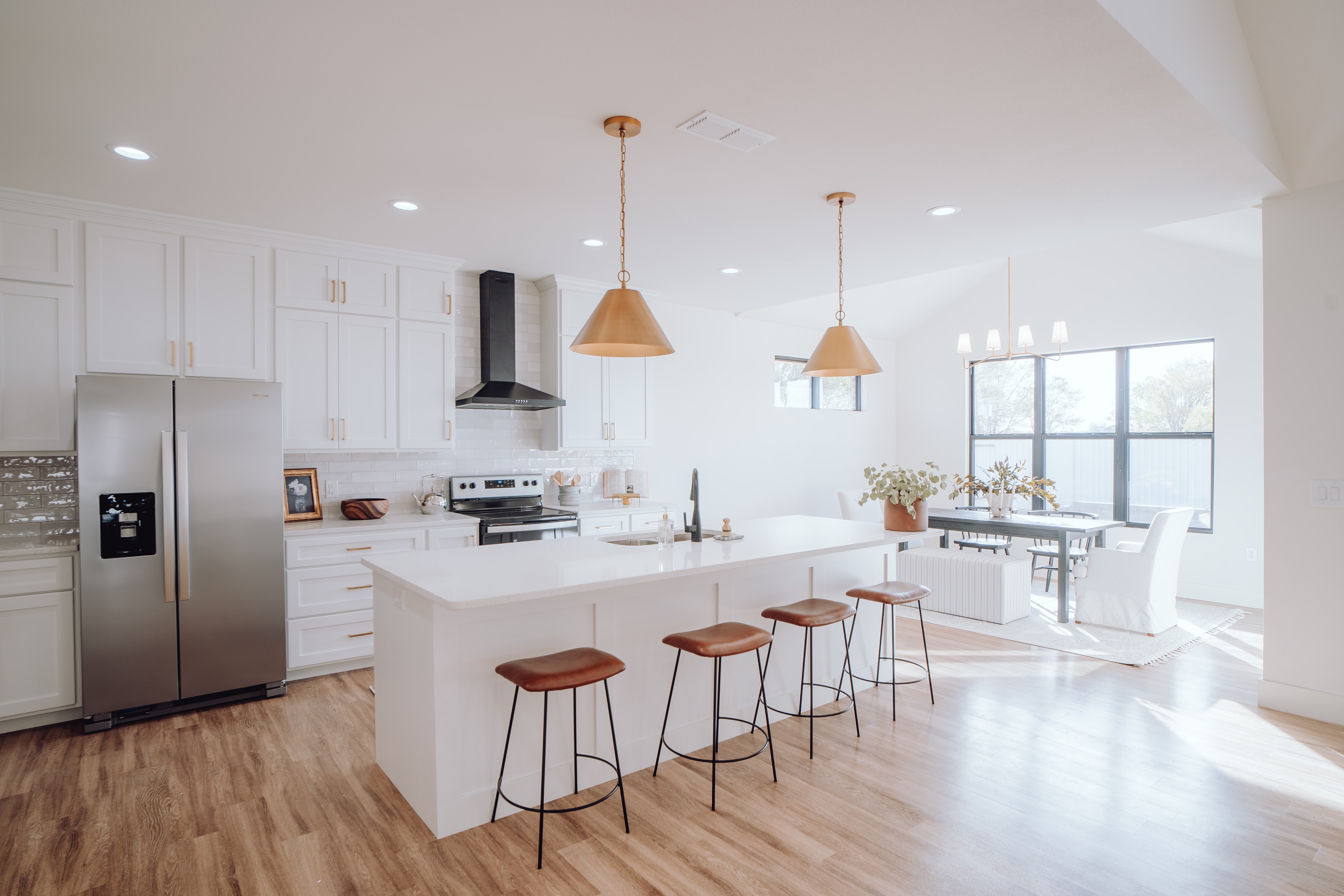 Choose Color Schemes by Temperature
Now you may be thinking, three different colours in three different rooms sounds crazy!? An easy way to plan for colour harmony is to choose a colour palette with the same temperature. On a spectrum of warm to cool, you can find the right fit for your design aspirations. For example, red, yellow, beige, pink, and orange are on the warmer side, whereas, purple, blue, green, and grey are cooler. There are no rules, really, but picking a temperature will go a long way in creating a unified look.
If you're worried about too many colours, you can simply choose variations of the same colour. If you pick green, you may want to use sage, forest green, emerald or chartreuse as you style each room. The same idea is perfect for decorative elements and finishing touches.
Hardware stores will gladly prepare tints for you as variations of your base colours. Paint professionals can add white or black and transform the colour intensity by mixing them. This is a great way to use the same base colour but not have to paint all the accent areas the same colour. Check out your local paint store for some paint colour palettes for inspiration.
Playing it safe can help ease you when choosing bold and loud colours. You don't want to invest in pick ticket items like a new mustard-coloured couch or rug and end up hating it after one month. So a cost-effective approach before doubling down on the bigger investments is introducing bold colours through your accessories. Choosing smaller pieces is inexpensive and allows you to switch them out if you tire of the colours. Great items to start with are decorative pieces, artwork, candles, vases, pottery, thrifted furniture, throw cushions, and blankets.
Make Your Furniture Work For You
When you have an open plan living space, furniture plays a critical role in breaking up the larger spaces into sections with intention and purpose. You can formally divide areas with screens, bookcases and room dividers. You don't need to do this, though; you can easily define areas whilst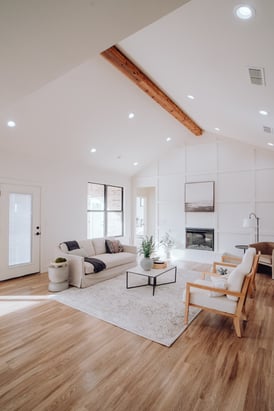 still keeping them open and allowing the sections to flow into one another. Don't be scared to move furniture away from walls, create a book nook around a bookcase or spark conversation in the middle of a room with coffee tables and a comfy couch.
Limited budget for new furniture? Check out our guide to decorating with hand-me-down and thrifted furniture.
Add cost-effective architectural details
If you've spent time on Pinterest, you would have seen striking examples of wall panelling. These architectural details can add texture and a luxe feel to any space. Panelling options are merely added to the walls' surface rather than changing anything structural. Moulding, skirting, and panelling can be a unique and cost-effective way to define the different areas of your home.
Types of wall panelling to check out include wainscoting, board and batten, shiplap, beadboard, and fabric acoustic panelling. For example, you could add panelling to the dining room. This area could be painted the same as the main living area, but the panelling will define the dining area from the adjoining kitchen and lounge.