Keeping healthy by eating nutritious food during this time is really important. We need nutrient-dense foods to help keep our immune system in peak performance. But it's not always easy to juggle the new demands of lockdown life and still have time to put together healthy meals for our family. After a long day we find that it's easier to turn to empty carbs to feed our family or order takeaways.
Many of us are still working from home during level 3 and have quickly realised that we may be in lockdown but our unhealthy snacking is not (hello, chocolate cookie number five!). This is nothing to feel guilty about, we are navigating new terrain and we ought to be kind to ourselves. To help we've laid out some simple, healthy go-to meals and snacks to spark some healthy meal prep creativity in you. And don't worry, the recipes we layout are affordable and require only basic culinary skills.
General Tips
It's difficult to eat healthily when the house is full of junk food. For healthy immunity stock up on some nutritious foods like a variety of veg to snack on with dips like hummus or tzatziki. Fruit is also a healthier snacking alternative for the carb-conscious. Just the simple switch of having better alternatives around will mean that it'll be easier to choose the apple over another cookie.
As far as meal prep goes, planning is key. Prep simple meals in advance and take advantage of making double batches of dinners for freezing.
The freezer is your friend. Plan to cook double portions of freeze friendly meals in the week or on the weekend that you can easily defrost when the need arises.
The oven is a great time saver. Got some last-minute work to finish while trying to feed the kids. With some simple ingredients and a single baking tray you can pop the food in the oven to cook and get back to your emails for 45 min.
Quick and easy recipes
Chicken and Cauliflower Tray Bake
The oven is your friend and one-pan solutions to daily meal prep in the stress of organizing dinner are a great start. This recipe is packed with veg and you'll only have to wash up one baking dish at the end of it all.
Ingredients
500 g of chicken breast (sliced into strips)
2 cups of cauliflower
2 cloves garlic (diced)
A handful of baby spinach
2 teaspoons of ground cumin
250g of cherry or Rosa tomatoes
1 bell pepper
1 onion
A handful of chopped herbs of your choice. We recommend coriander, basil, or parsley.
150g feta
juice of 1/2 lemon
Method
Preheat oven to 220 degrees.
Add the pepper, cauliflower, baby spinach, tomato, and onion to the roasting pan.
You could choose to sear the chicken breast in a stovetop pan for colour but this is not necessary. Just pop the chicken strips on top of the veg and cook for 30 min or until chicken is cooked through.
To finish, squeeze lemon juice over, crumble the feta and toss through the chopped herbs.
Season with salt and pepper and serve on its own if you're eating low-carb or serve with rice or couscous.
2. Banana Flapjacks
Everyone loves flapjacks but they aren't the healthiest of breakfasts. Traditional recipes are great for the weekend and occasional mid-week treat but some twists on the traditional recipe boost better nutritional content and are equally as delicious. This banana-based recipe is low-carb, gluten-free friendly, and helps use up any overripe bananas you may have lying around.
4 bananas (mashed with a fork)
8 eggs
vanilla extract
1/4 teaspoon of cinnamon
Add some coconut oil, butter, or canola oil to a pan. Pour in flapjack sized batter and cook for around two minutes. Flip and cook for another minute. Serve with the toppings of your choice. Think fruit and berries instead of maple syrup to add that sweet element.
3. Healthy chicken nuggets and dipping sauce
This takes the much-loved chicken nugget and loads it with veggies. Instead of being deep-fried this recipe calls for an oven baking which saves time and is a whole lot healthier. Make sure to make a double batch of the dipping sauce to keep in the freezer.
Ingredients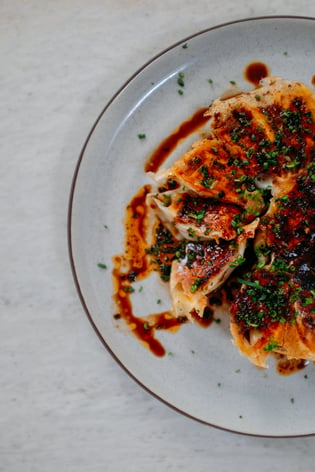 2 cups of cornflakes (crushed)
500g chicken mince
half cup of frozen corn kernels
1 baby marrow (grated)
1 carrot, finely (grated)
half a teaspoon of chicken stock powder
Method
Preheat the oven to 180 degrees preferably with the oven fan on. Combine the stock powder and the crushed cornflakes in a medium-sized bowl. In a separate bowl, mix the chicken mince, corn, and drained carrots and baby marrow (you can simply squeeze the water out of them with your hands for the best results). Once all the ingredients in the mince mix are evenly distributed and well combined you can start to roll the mixture into 3 cm balls. If you like, you can use a tablespoon to scoop the mixture to get an oval nugget shape. Toss the nuggets in the cornflakes and stock mixture making sure to dust off any excess crumb. Place the nuggets on your oiled tray and cook for 30 minutes (turning halfway). Serve your healthy golden nuggets with a tomato dipping sauce.
Dipping Sauce Ingredients
1 can diced tomatoes
1 teaspoon olive oil
1 garlic clove (finely chopped)
1 red onion (finely diced)
2 teaspoons balsamic vinegar
1/2 cup fresh herbs (we recommend basil)
1 teaspoon table sugar
Method
Heat oil on medium heat and add onion and garlic. Cook until softened. Add the can of tomatoes and simmer for 15 minutes so the sauce can thicken. Season to taste and stir through the chopped herbs. To finish you can serve the sauce as is or if you'd prefer a smoother dipping sauce, blend the mixture once cooled.
4. Veggie packed wintery soup
This is a great go-to recipe as we come into the wintery soup season. This recipe is also easily made vegan by making sure your stock is vegan.
45ml extra virgin olive oil
1 red onion (finely chopped)
1 large carrot (coarsely chopped)
1 leek (finely sliced)
1 celery stick (coarsely chopped)
2 garlic cloves (finely chopped)
400g sweet potato (cut into 2cm pieces)
6 cups of your favourite stock
200g pearl barley
1 bay leaf
2 large fresh rosemary sprigs or thyme
2 cups kale (loosely chopped)
Method
Fry the onions and garlic in the olive oil until softened. Add the celery, leek, and carrots and cook for 10 min. Now add the stock, barley, sweet potato, bay leaf, rosemary, and kale. Season to taste and simmer for 40 minutes, stirring occasionally. You'll know it's down when the pearl barley is soft. Great by itself but can be served with some fresh, warm bread.
5. Fridge friendly Frittata
Whatever's left in the fridge after the week's eating, maybe there's a few mushrooms, half a red pepper and a handful of spinach can be revived into a simple Frittata. This recipe couldn't be easier and is a great recipe to prevent any food waste.
Ingredients
leftover uncooked veg
2 eggs
cheese
10ml of oil
Method
Slice the veg into small bite-sized pieces. Add the oil and veggies to a frying pan. Fry until almost cooked. Mix the eggs in a bowl with a fork until combined. Lower the heat and add the eggs, moving the veg around until the egg covers the whole pan. Keep at low heat until the egg is cooked through. Grate some cheese over the top and serve hot.