There are areas around the house that are tricky to clean, and just the thought of tackling them is a little off-putting. However, these grubby and grimy spots don't have to be disheartening when you can concoct some simple and powerful solutions to clean even the stickiest stains. We take you through 5 easy DIY cleaning hacks, and the best part about them, they're cost-effective and eco-friendly too!
Grimy grout
Grout cleaners often have hazardous chemicals in them that can cause skin irritation, allergies and respiratory issues like asthma. If you have little ones around, it's best to use a gentler and more natural cleaning solution instead. We'll take you through a simple recipe for a much less harmful grout cleaner.

Hydrogen peroxide is added to the mixture for stubborn areas where the grout has perhaps become mouldy. This is powerful and requires a little more care when handling because it can have a bleaching effect on fabrics. Be careful when mixing and applying not to splash any on your clothes. Here's the recipe:

250ml squeeze bottle

250g of baking soda

130ml of 3% hydrogen peroxide
Combine the ingredients in a small bowl until it becomes a paste-like consistency. Spoon the mixture into your squeeze bottle. Squirt your grout paste onto the target area and wait 10 minutes for it to activate. Use a scrubbing brush to clean and wipe the mixture off with water and paper towels. Now, your grout should be as shiny as the tiles around them!

Bathroom and Kitchen mould
Looking for a simple silicone sealant mould cleaner for the bathroom and kitchens? Combine the ingredients below:

125 grams of borax powder

1.5L boiling water

Spray bottle
Once mixed, you can decant the borax solution into a recycled spray bottle. To apply the mixture, spray it onto mouldy areas and let it sit for five to ten minutes. Now you can use a scrubbing brush to work the mould off of the grout. Once done scrubbing, you can rinse the borax solution with water.

Glistening Glass (mirrors, windows, shower glass)
The dreaded window clean! This is quite a tiring job, but it has a massive impact on your home's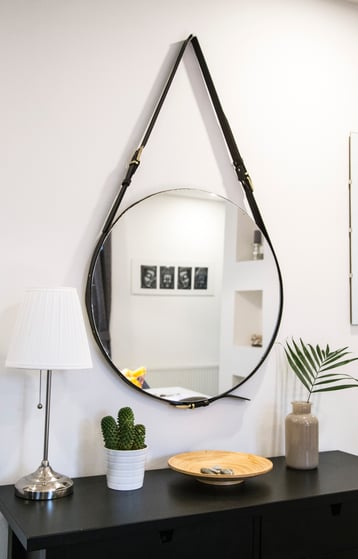 look. You'll need to do this inside and out for the best results. Regular store-bought glass cleaner works well, but you can easily make your glass cleaner with:

300ml water

280ml rubbing alcohol

lemon juice
Mix it together, and you're good to go. Apply store-bought or homemade detergent on some chamois cloths, squeegees, or a regular soft cloth. You can finish the windows with some old newspapers to dry them and to achieve some extra sparkle.

Bathtub basics
Sometimes a simple rinse of the bath doesn't quite cut it to clean the tub of dirt and bath product residue. Soapy scum is never a good look for the bath, and it's a lot easier to clean than you might think. Here's a recipe for a great all-purpose cleaner:

baking soda

lemon juice

6 drops of essential oil

dish soap
Combine all the ingredients in a bowl. Sponge the mixture onto the surfaces of the bath, sink, shower floor and shower protective panel if you have a bath and mixer setup. Leave the mixture to do its cleaning work for 15 minutes. Once left to do its magic, rinse off with water for a glistening finish!

Stainless steel
Stainless steel is a popular choice for finishing large and small appliances, but it can, unfortunately, become a little grubby and take on fingerprint marks quite easily. Use this DIY solution and oiling combo for the best cleaning results:

Glass spray bottle

450 ml white vinegar

25 drops of your favourite essential oil lemon or orange

Cotton cloth

Olive oil

Microfiber or non-scratching cloths
Mix the essential oil and vinegar in the spray bottle, close the lid and shake till combined. Set the olive oil aside for now. When ready to clean, shake up the bottle to ensure the oil and vinegar are mixed well before use and spray the stainless steel surfaces.


Let your DIY cleaner soak for a minute before using a simple cotton cloth to wipe it all down. If you look carefully, you will see that your stainless steel surfaces have a faint grain, and it's best to follow that grain while wiping to ensure the best results. Now it's time to make it shine! You can use a teaspoon of olive oil on a cloth and work the oil onto the surface for the final touch. Keep buffing until all the surfaces are covered.


A microfibre cloth or any non-scratching cloth is the best to use when applying the olive oil as it won't leave any micro-scratches dulling the sheen of your stainless steel, and it picks up all the dirt on the surface, leaving a mirror-like finish.

Oven degreaser
The inside of the oven door catches splashes of fat and food debris during cooking. This can cause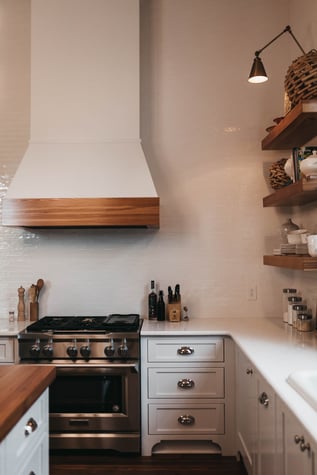 an oily buildup on the glass. It shouldn't be left too long because as you use the oven, the oil is then baked onto the surface of the glass, making it more difficult to clean. All you need is a little:

250g baking soda

Water

Vinegar

DIY glass cleaner
Combine the baking soda with a bit of water in a bowl. Add the water slowly until you reach a paste-like consistency. When you have your white paste, open the oven door to lie horizontal to the floor. Smear your mixture onto the inside glass surface of the oven and wait 10 minutes for the baking soda to do its work.


You can also spray some vinegar out of a spray bottle over the mixture to boost the cleaning power. After leaving the paste to sit, wipe it off with a soft cloth so as not to scratch the glass. Once you've wiped off everything, you can finish the cleaning with your newly made DIY glass cleaner.