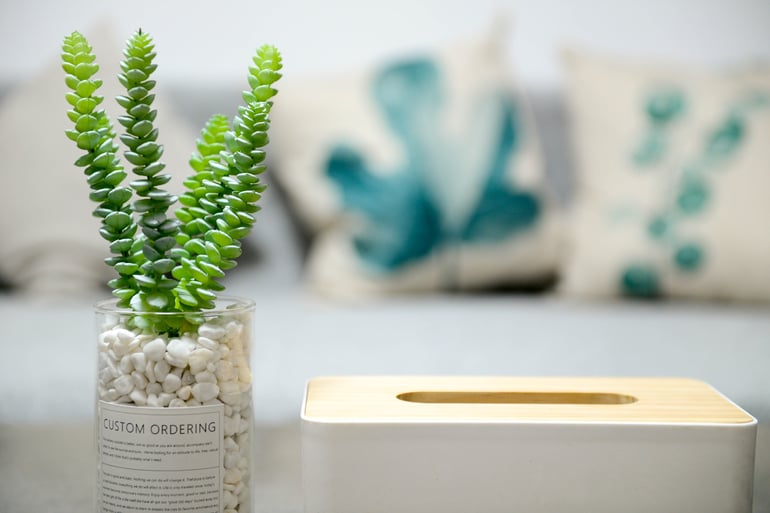 There's nothing quite like the healing power of nature when it comes to relaxation. Simply being in the presence of trees is scientifically proven to reduce stress, lower your heart rate and blood pressure and boost your immune system. Of course, very few of us have the luxury of being able to pop off to the nearest forest when life gets a bit much, but the alternative – bringing nature indoors to you – is much easier than you might think!
Nature as a design element has become extremely popular in the last few years and design aficionado. We're living busier lives in smaller homes, and green spaces are often few and far between. People are having to find creative ways to get that all-important nature fix, which – lucky for us – means it's getting easier and easier to get in on the action.
Here are some top tips to consider on how to nature-up your home. So get your shopping list together so you can be ready to visit your local nursery once the lockdown restrictions ease.
Potted plants
The most obvious option for bringing nature indoors is… well… literally bringing nature indoors! Potted plants are a wonderful addition to any interior and you'll find countless options, from tiny succulents to indoor trees, at your nearest garden centre. Choose a theme for your indoor plants that will complement your interior style.

Desert themes work well for minimalist interiors – think succulents, air plants and cacti," she say "Softer plants like Maidenhair Fern and orchids are perfect for more delicate, feminine spaces. Fora lusher, contemporary effect, bold tropical plants are the way to go – try fiddle leaf figs, delicious monsters, rubber tree plants and philodendrons.
Wall garden
Indoor wall gardens are a great alternative to potted plants, but Reabow says they do take a little more effort to get right.
You get some amazing indoor wall systems that you can use for anything from a kitchen herb garden to a green accent wall, but you'll likely have to get a professional installation done for the best results. Unlike potted plants, you can't just move your wall garden if it's not doing well in a particular spot, so think through your options very carefully before committing to a design.
Botanical prints
If you don't have a green thumb, don't worry – living plants aren't your only option for bringing nature indoors. Botanical prints make a lovely addition to any home and come in a variety of styles to suit all kinds of interiors.
Botanical prints can bring pops of natural beauty to a room without taking up any floor space, or requiring any care. A lot of local South African artists do botanical sketches, drawings and paintings, and you can find anything from fynbos varietals to exotic flowers and elaborate leaves in a number of styles.
Wallpaper
If a few prints aren't quite enough to satisfy your nature craving, why not create a nature-scape on a feature wall using one of the many amazing wallpaper designs available?
With wallpaper, you can have your very own forest or jungle inside your home. Modern printing technology gives exceptional image quality, and you can really create an immersive experience.
Not only is wallpaper a gorgeous and dramatic addition to an interior, it's also very durable, available in water-resistant options for wet areas like bathrooms, and easy to change if you get bored!
Natural materials
Nature isn't just about greenery, and homeowners should not forget about materials like stone, wood and natural fibres. These, add a touch of earthiness to an interior that complements nature-inspired décor to perfection.
It's not just about stone cladding or wooden floors, there are a thousand options for bringing natural materials into your décor. Wooden bowls, woven seagrass rugs, driftwood sculptures and river pebble displays are just a few of them. Get creative and have fun – it all adds to the relaxation experience.