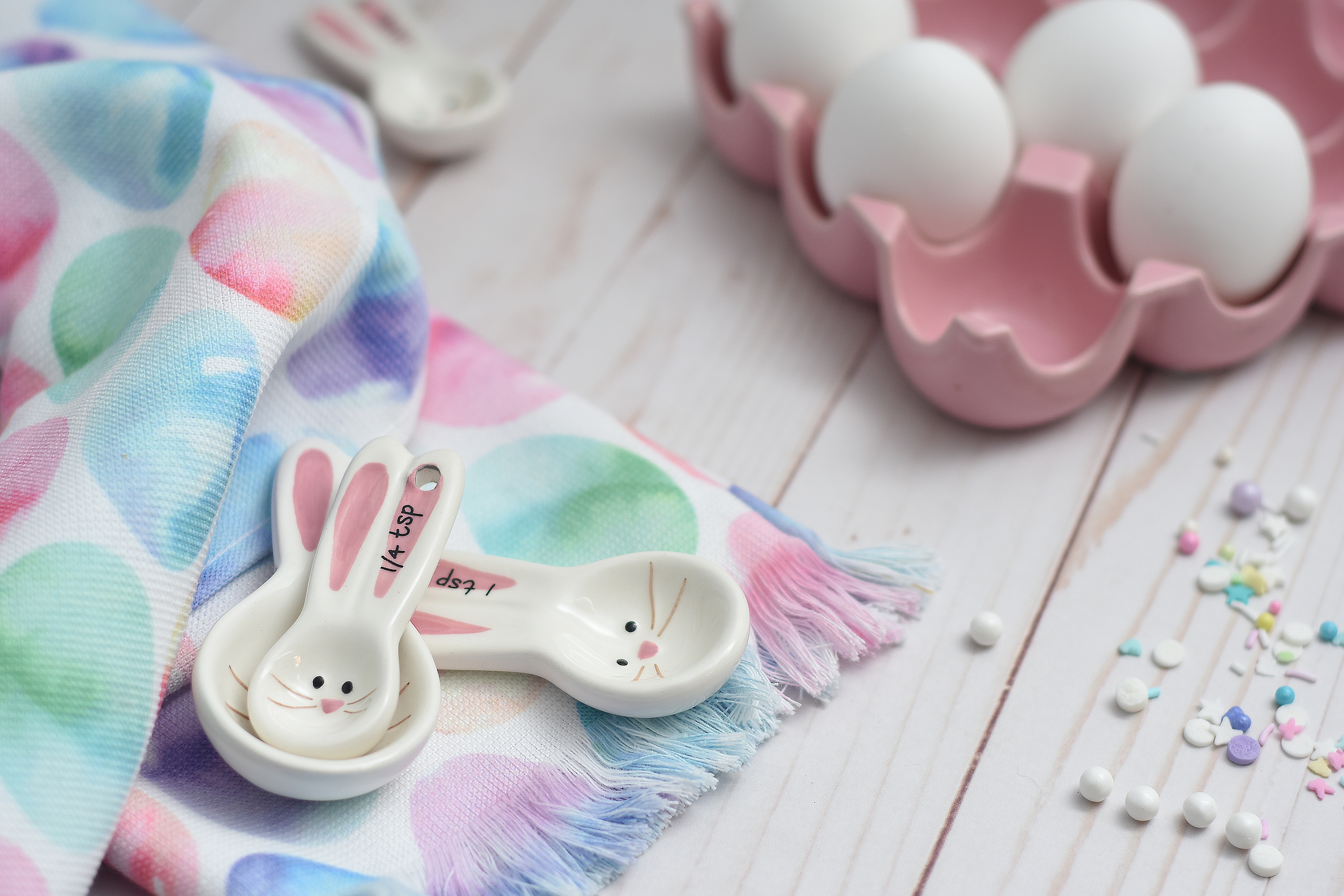 Who said an Easter egg hunt can't happen indoors anyway? Besides the lockdown, many of us have small outdoor spaces or don't have gardens at all and now's the time to get creative with our Easter celebrations. During this unprecedented time, we will need to think of fun ways to keep our families busy indoors. We've rounded up a few ways that you can get busy with Easter activities and bring the fun into your home.
Chirpy Treats
Whether you celebrate Easter or not, kids of all ages love a treat during the Easter holidays. So, help them create a little treasure trove – aptly, in the shape of a chick – to store their sweets.
What you'll need: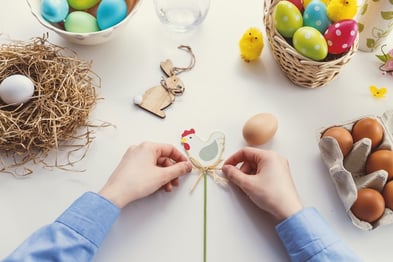 Egg Carton
Yellow Paint
Black marker
Orange cardboard paper
How to make it
Cut out two egg cups from your egg carton
Cut out a piece of cardboard paper that's one centimetre wide by two centimetres long
Glue this at the back of each half of the cup – this will create a hinge that holds the cups together.
Paint your two joined parts in yellow and allow to dry (this may require two coats, depending on the paint you use)
Next, choose a cup that will serve as your head (the other one will, of course, be the bottom).
Cut out two triangles from the orange cardboard paper. Glue the one triangle to the top egg cup on the opening side (i.e. on the opposite side to the hinge) – allow the pointy side of the triangle to face outwards of the cup. Do the same to the bottom half. You'll now see that you've created a little beak for your chick.
Next, cut out feet for you chick using the orange cardboard paper – it can be rectangular, round or in the shape of little chicken's feet; it's all about how creative you want to be.
Stick the feet to the bottom of the chick.
Using the black marker, draw on small eyes on the top carton.
Fill with some sweet treats (we prefer speckled eggs, jelly tots, Smarties and Astros!).

Bunny Mask
Take storytelling to a whole new level of make-belief by creating a homemade, handmade mask. And as it's Easter, we think a bunny mask seems fitting…
What you'll need:
White paper plates
At least two sheets of A4 cardboard paper in white (the same colour as the paper plates)
Pink craft paper
Cotton balls
Pink pipe cleaners
Glue or a stapler
Scissor
Ice cream stick or a stick to hold your mask
How to make it:
Start by cutting out the inner circle of the paper plate – ensuring you keep the outer circle intact (you may have to pierce a hole in the middle of the paper plate with your scissors so that you can cut the middle section out… mom or dad's help may be needed here).
Next, using your sheets of cardboard paper, draw the shape of bunny ears – there are no rules here; any interpretation will work!
Next, trace a smaller shape of your bunny ears on the pink craft paper – this will be the inner part of your bunny ears.
Glue your pink "inner ears" to your big bunny ears.
Then, glue or staple the ears to your paper plate.
On either side of the bunny's face, glue or staple three pink pipe cleaners. (If you can't find any pink ones, simply let your white ones lie a mixture of water and red food colouring; allow to dry before using them.)
Then, glue cotton balls all-around your paper plate face and around the ears (note: keep the pink inner ears visible).
Once this is dry, glue an ice cream stick to the bottom back of your mask.
Now, storytime can start!
You can also make a Lion Mask using these instructions; simply use yellow wool where you would use cotton wool; yellow pipe cleaners and make ears that fit a lion. Or a sheep, piggy, giraffe, dog, and cat – let the imagination run wild!
Puzzle Egg Cookies
These simple cookies are a real crowd-pleaser. You can use your favourite cookie recipe or follow the one below but the idea behind these cookies is to cut the egg-shaped cookies into smaller pieces so that they can be put back together like a puzzle.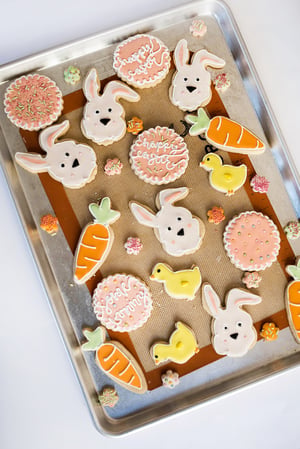 What you'll need for the Royal Icing:
Simple royal icing recipe:
3 cups of icing sugar
2 egg whites
Food coloring
How to make the icing:
Whisk the egg white in a bowl. Add the icing sugar gradually until combined. Continue to whisk until smooth and all the icing sugar is incorporated. You can then separate the icing into containers to add the coloring of your choice. Transfer icing into a piping bag for decorating.
What you'll need for the biscuits:
4 cups all-purpose cake flour
230g unsalted butter
2 cups granulated sugar
1 teaspoon baking powder
1/2 teaspoon coarse salt
2 large eggs
2 teaspoons vanilla essence/extract
How to make the biscuits:
Mix the flour, salt and baking powder.
Add the butter and sugar together in a mixer and cream until pale. The mixture will become fluffy. This should take 3-5 minutes. Add the eggs one at a time as the mixer continues to combine. Add the vanilla. Now lower the mixer speed and add the flour mixture from step one. Cover the mixture in cling film and place in the fridge for one hour.
Heat the oven to 160 degrees Celsius. Roll out the dough to a thickness of around one-third of a centimetre and cut the biscuits into oval egg shapes with a cookie cutter or you could do this by hand. Perfection is not the goal! Line your tray with baking paper and load up your eggs. Put them in the oven for around 7-10 minutes and bake till golden. Everyone's oven is different so keep an eye on them they will be ready in no time.
Now as you get your cookies out the oven, cut the "egg shapes" into twos and threes. You can cut them in all sorts of ways to make up the puzzle pieces. It's easiest done when still warm as they will harden as they cool. Now let them cool on a tray and prep your decorating station. Here you can get the kids involved and ice and decorate your eggs with sprinkles and stars etc.
Once your puzzle cookies are done. Mix them up and place them into small recyclable brown paper bags. Now you can hide them around in food-safe areas around the house. Once the egg hunt is down you can all get together and figure our which biscuit pieces fit together and reassemble and build the "puzzle" eggs.

Indoor Easter Egg Hunt
We've built some sweet storage and baked some Easter biscuits. Let's put on our bunny masks and let the egg hunt begin! A room-to-room hunt is ideal and you can up the complexity and length of the hunt depending on the age of your kids.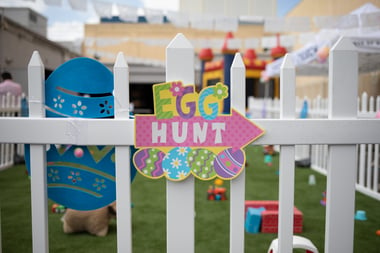 For the small ones, you can limit the hunt to one or two rooms but then maximize the amount of eggs in those areas. Of course, the older kids can be put to the test with a hunt around the whole house. Some interesting and more difficult hiding places are behind the books on the bookshelf, under the couch cushions, folded in a pair of socks in the sock drawer, inside the pockets of hanging clothes, get creative to up the ante.
Now always remember: the number one tip for parents as you plan your hunt is to write a list of all the places you hide your eggs. We don't want any to go missing nor do we want to find a melted egg in a tissue box sometime in May because we couldn't recall that last hiding place during the hunt.
Added Easter hunt fun
Being stuck indoors requires some creative thinking to burn off some of the kid's extra energy. So as your hunt ensues make a few rules around discovering eggs. As the kids search for and find eggs they need to "chirp like a chick", "cock-a-doodle-doo like a rooster", "hee-haw like a donkey" or "hop like the Easter bunny" before they get to hunt for their next egg.
This slows down the hunt a bit and creates an added element of fun! At the end of it all, the one with the best bunny hop, rooster screech, donkey honk or bird chirp wins an extra special prize of your choice.
If your kids are a little older, another fun idea is to include a hunt for the "magical golden egg". This must be the biggest and best Easter egg of the whole hunt and must be the most difficult to find. Think one of the more difficult spots like behind a particular book in the bookshelf. You can make this the final part of your Easter hunt as a family giving a set of clues or coming up with a riddle for where the magical egg may be hiding.
These may be difficult times for us but there are plenty of fun ways to enjoy each other's company and create an Easter to remember indoors.