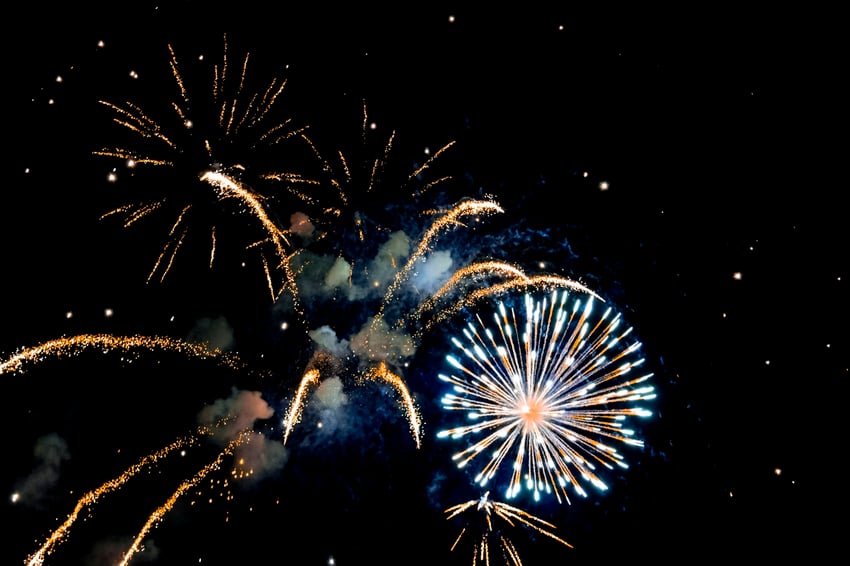 As each New Year rolls around, most of us spend a large part of January thinking about our resolutions. These usually are along the lines of "get fit", "stop smoking", "meditate more" and so on. But what about your home? This is where you and your family spend most of your time, so paying attention to the appearance and order of your surroundings is bound to rub off on your mindset – as the old saying goes, "tidy home, tidy mind".
So, we've rounded up five New Year's resolutions for your home – those things you can your family can do and work through together step by step; either over the course of five weeks or five months depending on your budget and time constraints.
Week/Month 1: Declutter and Recycle
You might or might not have heard of Japanese organisation guru Marie Kondo? In her , and her best-selling book "The Life-Changing Magic of Tidying Up", she introduced the Konmari Method, an approach to decluttering that's based on one simple question: does the item spark joy? It may sound simplistic, but that's what makes it valuable when getting your kids on board – joy is a concept they can understand, and it will help them to appreciate the deeper value in their belongings.
When sorting through items, create piles for throwing out, donating and recycling – another great learning opportunities for children. Take a look at Postwink's lineup of recycling products, which can help keep up the good habits.
Week/Month 2: Invest in Storage Solutions
Now that you've cleared out the clutter, it's time to arrange the items you've chosen to keep. From wardrobes to food cupboards, all of the daily-use spaces in our houses can benefit from simple organizational pieces.
Start with basic boxes, files and shelving, then get a little creative and take on a few DIY ideas. For example, transform a drying rack into a clutch bag holder; hang hats on the wall to save on wardrobe space and display them like art; use a shoe pocket organizer to arrange your bathroom or kitchen cleaning products on the inside of a cabinet door; and repurpose hanging flower baskets to store stuffed animal toys.
Week/Month 3: Transform the Walls
Even if you only choose one wall to redecorate, the impact will be long-lasting. If you have kids, ask them to pick a colour for their bedroom and get them to help paint an accent wall. If you're looking to give your lounge a makeover, consider a beautifully patterned wallpaper – check out the selection of modern stick-on designs at www.stickythings.co.za. Also, it's time to finally frame and hang up all those photographs or artworks you've been meaning to display for years.
Week/Month 4: Reduce Water and Energy Consumption
Even if you don't live in a drought-stricken area, it's never a bad thing to start thinking seriously about conserving water. Plus, with load-shedding making its big return to our daily routines, it's also time to think about saving energy. The easiest changes to make are things like taking a 90-second shower instead of a bath, teaching kids to switch the tap off while brushing teeth or washing hair; and fixing leaky taps. If you own your house and are willing to make the investment, consider installing water saving showerheads and taps – these can save up to 10 litres of water in one shower. To reduce energy consumption, a basic starting point is switching to LED bulbs – they use 90% less electricity and last up to 20 years. Also make sure you turn off all items, such as the TV, microwave and even lamps, at the wall socket when they're not that aren't being used (it will still consume electricity if you've just turned it off at the item's on/off switch); you can also turn your geyser off at the electrical board during the day when no one requires hot water.
Week/Month 5: Start a Vegetable Garden
This is another wonderful opportunity to get the kids excited about a home-improvement project. Starting a vegetable garden not only gets them outdoors and into nature, but teaches them about growing and nurturing plants – not to mention the health benefits of eating their greens!
If you have enough space, expand the idea into a community garden, where your neighbours contribute a small sum of money each month, come over to help maintain the veggie patch, and then share the pickings. If you only have a small balcony, you can still easily grow herbs in posts – you'll still receive the same sense of gratification when it comes time to blend that basil pesto.